Fagnoon: Fun Activities for The Family in Cairo
Sakkara Road, 12.5 km from Pyramids Road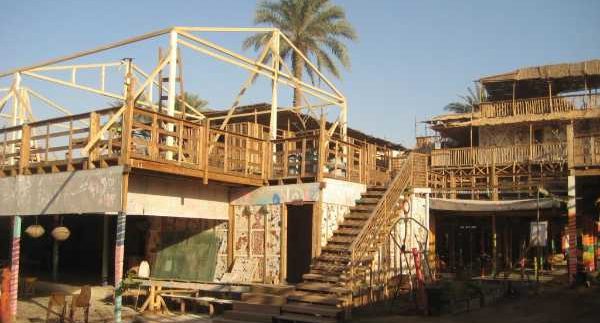 Come the weekend, many of us long
for an escape from the dirty, noisy, hectic confines of Cairo. While
it often means an escape to the beach, a retreat to the rural haven just over
the Moneeb Bridge can be just as effective.
We aren't suggesting a picnic next to an irrigation canal; but a visit to
Fagnoon, a delightfully irreverent art collective and activity centre on the banks
of the Marioteya Canal.
We love Fagnoon's off-beat name, a
combination of the words 'funoon' and 'magnoon' (art and crazy), the spirit of
which is reflected in every part of the compound from the imaginatively
decorated parking lot and the staff's creative nicknames to the homemade
playground toys and vibrant mosaics decorating the property.
Founded by Egyptian artist Mohamed
Allam, Fagnoon is the manifestation of Allam's vision of an ideal society where
freedom of expression, respect for the environment and mutual consideration are
the norm. Allam wanted children to have a place to develop their talents and
creativity in an unconstrained environment, and to express themselves freely
outside the confines of daily life.
Fagnoon has expanded to include a
range of art-related activities and other creative offerings for all
ages. Activities on offer range from art
projects in different mediums, including pottery, word carpentry, jewellery
making, welding and other activities such as gardening and rustic baking.
Homemade nets and swings make for fun climbing for kids and adults alike,and
families will enjoy walking through Fagnoon's grounds, which are surrounded by
agricultural fields dotted with farm animals. Donkeys and horses turn up at
random to offer rides.
Big kids will enjoy the mud pit,
where groups can soak each other and engage in extreme wrestling competitions.
While you must be prepared to throw away every article of clothing that enters
this mud madhouse; it is well worth it. Water
balloon fights are another fun activity for rowdy groups of friends. Plastic
bags filled with water and dyed in bright blue, green, red and yellow are filled up
and transported to the centre of a grassy field; and the battle is on.
Fagnoon's accommodating staff are
happy to photograph the madness and help add to the fun by egging on contenders
and dumping surprise barrels of water over your group; making for hilarious
pictures.
It is advisable to bring a towel and
a change of clothes along if you intend to take part in these messy activities.
Luckily, Fagnoon has rustic but clean shower facilities for de-grubbing.
Entrance for one session in
the mud pit and one water fight costs 50LE per person. If you want to add
another session of either, it's just 20LE extra per person. Donkey and horse
rides cost 20LE per turn.
So when your soul is weary of the
hustle and bustle of Cairo; look no further than the Marioteya Canal, and by
that we mean the peaceful and rejuvenating experience of a day of fresh air,
green vistas, art and games at Fagnoon.