Fairmont Heliopolis Day Use: Out with the Old and In With the New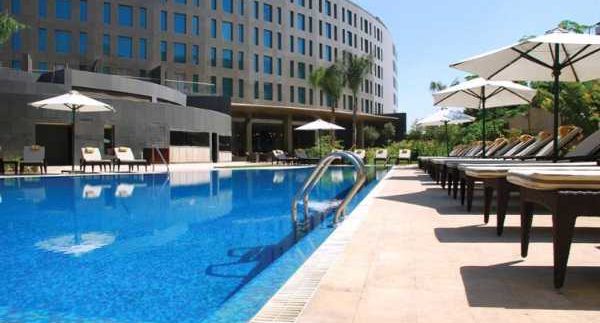 Canadian franchise
Fairmont Hotels and Resorts is well-known for its stately, traditional decor. Egypt's Fairmont
Heliopolis hotel lies a mere five kilometres from the Cairo
International Airport, making it a convenient place for
recently landed travellers and Heliopolis residents alike.
In the original wing of
the Fairmont Hotel Heliopolis, marble floors and a few ornate brass castings
evoke the lobby of a toned down aging Vegas hotel. During this reviewer's
visit, which coincided with the recent Eid weekend, we were served a glass of karkadeh
by a waiter in a white gallabeya and burgundy tarboush while we waited at the
reception desk to check in for our day use.
Day use is available
with a required reservation of either a single or a double room (500LE for
Egyptian residents; 110USD for foreign guests) or of a poolside cabana (650LE
for guests with Egyptian residents; 120USD for foreign guests). Rooms in the
more modern Fairmont
Towers hotel cost 800LE
for a day use (160USD for foreign guests), whereas cabanas are not offered.
After paying our cash sum for our double room reservation, we were ushered– or
rather waved languidly in the general direction – towards the elevators.
Regular double rooms are
modest but leave little to complain about. Regular-sized bathtubs with primping
accoutrements and a hair dryer were all tidy and in place, while the dated
television set reminded us that the great outdoors are far more exciting than staying
in.
Once we had located the
pool, our afternoon of true relaxation began– to the constant backdrop of the
crowds of shouting children out for an afternoon of poolside fun. The circular
pool is family-friendly, with plush chaise longues and generous umbrellas
ringing the perimeter. A below-ground-level circular bar flanks the pool,
serving up a menu of juices, grills and snacks. A lap pool and lower level kiddie
pool with a waterfall are to be found, although both were deserted. Partway
through our tanning session, we were pleased to see a waiter make the rounds
with a tray of yoghurt parfaits. The strawberry yogurt, cornflakes and
chocolate syrup made for a sweet, kid-friendly snack.
Having heard that a day
use earns you tanning rights to both Fairmont Heliopolis and the newer Fairmont
Towers wing, we set out to explore the
reputedly more adult-friendly pool on the other side.
A stroll through the majestic,
modern atrium evokes the feeling of walking through the most elegant of airport
lobbies. Huge skylights, endlessly high ceilings, fountains and maze-like glass
wall walkways complement a heady mix of modern art and corporate styles.
The pool itself is
tucked around the corner of one of the lobby restaurants, and is surprisingly
quaint with its irregular shape and spacious hot tub. The luxurious wooden
beach chairs are separated by curtains for optimum privacy, and on the
afternoon of our visit, only a few guests were reclining by the pool. Service
was attentive to the slightest wave of a hand.
Remember that a large bottle of
Evian costs 75LE on the menu; be wise and ask if they have any regular brands
of water not listed and they may begrudgingly produce a bottle of Dasani for a
third of the price. Other cocktails, smoothies and snacks have similarly high
price ranges – we are at the Fairmont,
after all.
A soundtrack of
questionable taste blared through the speakers for much of the afternoon with a
barrage of Stevie Wonder, Mary Hopkin and Enrique Iglesias.
Still, the Fairmont
Heliopolis Hotel and Towers presented some true summer delights, with its pleasant
blend of poolside luxury, family fun and a unique study of compare and
contrast.