Four Seasons Cairo At the First Residence Spa: Pricey but Worth It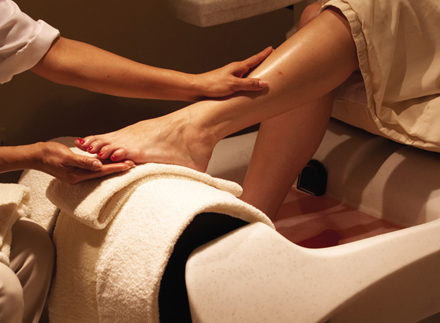 This reviewer's experience at the
Giza-located Four Seasons First Residence Spa was a little like finding the
Holy Grail of spas in Cairo: the spa was so luxurious and impeccable, we had
separation anxiety within minutes of leaving.
Located on the third floor of First Mall
(you can access it from the hotel via an ill-designed route of corridors), the
spa is decked out in quiet beige marble flooring, dim lighting and smiling
staff members in freshly pressed uniformed who insisted on speaking to us in
English. We had been asked to determine
our treatment of choice in advance, so via their website we selected the
Balinese Massage (691.15LE for 60 minutes) and the reflexology treatment (510.85LE
for 60 minutes).
Other massage options include deep tissue, Thai,
Swedish and the Imperial, which involves two therapists working simultaneously
using Thai, Swedish, Balinese, shiatsu and lomi-lomi techniques (249USD for 60
minutes). The spa also offers body treatments ranging between almost 100USD for
a body polish and 200USD for an anti-ageing treatment, as well as a variety of
facial treatments for between 85USD and 180USD. If you find the prices
staggering, wait until you add on the currency exchange rate and the tax and
service charge.
This spa is quite possibly the most
expensive spa ever reviewed by Cairo 360, but as previously stated, its Holy
Grail status makes it worth the price, even if you can afford it only once in
your lifetime. After a staff member serves you with a hot towel and a cup of
hot herbal fusion tea, you are escorted by your therapist through the corridor
into the women's section (there are two equally sized but separate spas for men
and women), which includes private dressing rooms, a sauna, steam room and Jacuzzi,
and a lounge area with relaxing lounge chairs, dry fruits and delicious hot
herbal teas.
After you slip into a plush robe (terry
cloth lining with a silken outer layer) and leave your belongings in a locker, the
therapist will escort you into a dimly lit, heated room. The temperature and
lighting can be changed according to your preference and you will be provided
with a sweet smelling eye pouch to cover your eyes with.
For the reflexology massage, the therapist
focused most of the 60 minutes on the feet, massaging, kneading, smoothing and
tapping the soles, ankles, arches and calf muscles. Occasionally, the therapy
was a little painful, but she can adjust the pressure if you ask. The extensive
massaging and use of lotions showed this reviewer just how much pressure and
strain was carried in the feet. By the end of the sixty minutes, your feet and
legs feel exhausted but refreshed with the intense circulation of blood that
the therapy has induced. The therapist focuses on the hands, palms and arms for
a few minutes, before ending with a dry hair massage and swift neck and
shoulder massage.
The Balinese massage left this reviewer's
companion in a perpetual state of bliss, claiming it to be of better quality
than a competitor hotel in Dubai. Balinese santi oil (coconut oil blended with
patchouli and vetiver) is kneaded into the body using deft hand movements for
six minutes. The treatment is both relaxing and refreshing, as the massage
releases tension and loosens knotted muscles.
After relaxing in the lounge area and
paddling in the large Jacuzzi, we reluctantly left the spa behind, refreshed,
happier and a lot poorer – our bill reached a whopping 1492LE for two massages.
Clearly, this isn't a spa we can frequent on a regular basis (or ever), but if
you can afford it, you're in for a truly luxurious experience.