Gold's Gym: Cardio Heaven
1, El Mahatta Square, above Hindam Pharmacy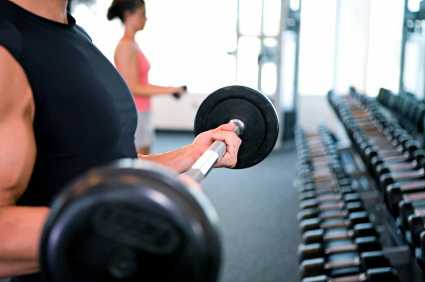 There may be
masses of gyms in Cairo, but the good ones are few and come with a considerable
price tag. Gold's Gym in Maadi is one of the top three gyms in Cairo, if not
the best, known for its high-quality machines, tough cardio classes and great
post-workout pampering. Sure, you may find some women wearing copious amounts
of makeup (do they never sweat?!), and some men may find it completely
reasonable to wear designer sunglasses indoors; but this is nonetheless a great
gym if you're serious about your cardio and passionate about your treadmill.
Speaking of
treadmills, there are four rows of treadmills positioned in the gym, featuring
brands like Cybex and Life Fitness.The Cybex treadmill has a built-in TV
screen with different channels and an iPod plug-in option that allows you to
view your music playlist. These options,
along with a built-in fan, make the minutes fly by. The one disadvantage is
that some lack a cool-down button and the option for an interval workout;
or at least they did at the time of this review.
Ellipticals
are just as plenty and luxurious as the treadmills, with enough machines
available to avoid anyone waiting for their turn. While several Precor
ellipticals are stationed right in front of individual TVs (and you're given a
remote control to change the channels if you wish), a separate row of the
machines has built-in TVs for added cardio luxury.
Additionally,
the cardio section has a few bikes and two rowing machines that give an
excellent upper body workout.The weight machines'
section is huge with some serious machinery to keep those guns in check. There are leg extensions, curls and presses to tone legs that haven't seen the
sun for a while, plus machines to get those awkward areas – the hip adduction
and abduction for inner and outer thighs. For a more serious leg workout, they've also got the uber painful (and our least favourite machine) – the Hack Squat. When it comes to upper body, you've got everything you could need to
tone fat or buff up – the usual suspects like the pectoral fly, the chest
presses, cables, shrug machines, lat pull down and t-bar.

Surprisingly, the facilities are a little outdated. However, at the time of this review, the gym was in the process of
updating the machines. A tiny corner at the end of the room is reserved for
free, though you may have to fight for space among the unnaturally large and
sweating body-builders.
The snack
corner at the reception desk offers power bars and small packs of nuts,
pretzels and other low-calorie snacks, as well as freshly pressed juices and
smoothies. It's quite tempting to completely bypass your workout, grab a snack
and head up to the pool.
The pools
have to be the highlight of the gym: there's one for each gender; and although
they're only big enough for a feeble paddle, it's a cool and refreshing way to
cool down post-workout. There are also chaise-lounges for you to work on your
tan, with an outdoor Jacuzzi nearby. Inside, the steam room is always clean,
and fresh white towels are provided for your shower and sauna venture.
A year's
membership at Gold's Gym Maadi averages around 4200LE, while a month's pass
sells for a whopping 1000LE. Last time we checked, a 6-month membership was for
around 3500LE. It's a serious investment that you should only make if you're
committed to coming to the gym more than once every national holiday.
If you can
bypass the glitz and glamour of Gold's Gym, you'll have a very productive
cardio session. Check out the gym's schedule for their famously painful
spinning classes.