Gold's Gym Maadi: Super Spinning Sessions
1, El Mahatta Square, above Hindam Pharmacy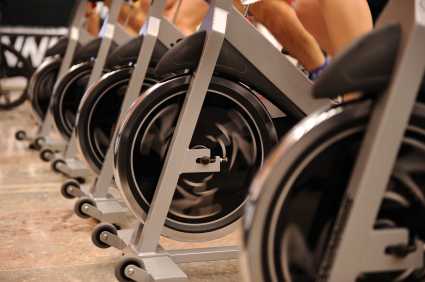 If your
exercise regimen has been lacking a sense of direction lately, head straight to
Maadi where God's Gym offers spinning classes that will put your path to
fitness back on track.
Spinning is
a high-energy stationary cycling exercise on a specialised bike. This intense workout is incredible for your cardio-vascular
hearth, toning your thigh muscles and building endurance and posture. If that's
not enough to get you packing your bag for the gym, spinning can help you
seriously shed some weight – an hour's session can easily burn 500 calories!
The
spinning classes at Gold's Gym Maadi are truly top-notch. The room is clean, modern
and equipped with twenty-one Star Trek spinners, while the staff are helpful,
professional and enthusiastic. The spinning room is located inside the gym,
with large glass windows facing the Maadi skyline.
Just before each session,
the room slowly fills with chatter and excited energy as members begin warming
up on the bikes. The instructor at the time of this review was a young, bubbly
lady named Nirvana, who began the class by walking around the room assisting
new faces. Extremely thorough, she helps
you find the proper settings on the bike, gives you a few pointers for the class,
directs you to the towels – these are a must – and sees to it that all your
questions are answered.
The
classes, which will run you 65LE for a single session and are included in your
gym membership, will vary a bit according to the session. Gold's Gym offers
classes to help with endurance, strength training, and other specific fitness
needs. They even have a 'race day' class once a month. Not to worry, though, the rest of their
classes don't have a competitive nature at all. Though the instructor directs your course and tells you when to stand or
sit on the bike and how fast you should be pedalling; it is easy and you can
modify the workout if you need to.
Don't be
afraid to let them see you sweat; because you will sweat. This is a
high-intensity workout, though thankfully low-impact on your joints and you
will feel the burn. Just when you begin
to wonder how anyone could inflict this sort of pain on themselves, the instructor
cracks a joke, the whole room laughs, and you're suddenly lost once again in
the incredible workout experience at Gold's Gym Maadi.