Gold's Gym Nile: Workout like a Pharaoh in Giza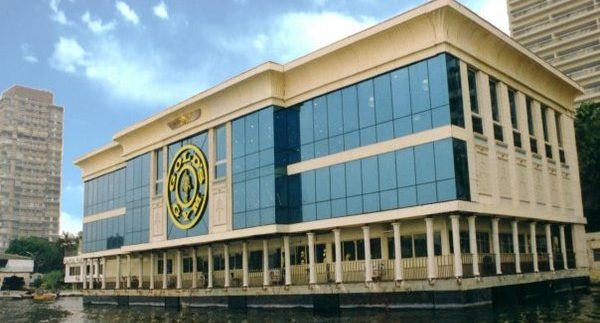 The gym can be a dreaded and tiring place for a lot of people. However, the spectacular panoramic view of the Nile at Gold's Gym is guaranteed to keep you going.
Being one of the oldest gyms in Cairo, and the first Gold's Gym in Egypt, the décor is both classical and a little shabby. The wooden pharaonic and gold embellishments of the walls and ceilings in the lobby were a surprising choice; especially compared to newer Gold's Gym branches around the city, which tend to feature a sleek and modern design.
Different membership packages are available, prices range from 1,000LE to 5,500LE depending on length of commitment (1-12 months), full time access or just mornings (5AM-3PM). All memberships include two personal training sessions and one meeting with an on-site nutritionist to discuss your fitness goals. Free mixed/women's only fitness classes run on a daily basis and can be a fun alternative to your normal routine. It might be worth mentioning to your boss that they also offer discounted corporate memberships!
The main workout area is located upstairs surrounded almost entirely with the unique view of the Nile. The gym is spacious and well equipped, catering for all your bodybuilding and weight loss needs. A variety of free weights and machine-based equipment is available. However, this gym seems unsure about the metric system they should be using as the weights are a mixture of kilograms and pounds, which can be confusing. There are many cardio machines such as treadmills, cross trainers, rowers and steppers to get your heart racing. Friendly personal trainers are readily available at all times to offer advice and help with your exercise. If you ever get bored of the river view, satellite channels are streamed on an array of overhead flat screen TVs.
A small but adequate women's only workout area is situated through the women's locker room along with a separate jacuzzi, sauna and steam room. You can workout without feeling too self-conscious and mysteriously leave looking as glamorous as when you arrived!
A range of supplements are available to buy in the lobby, alongside a fruit bar and a Mobinil service booth, just in case you need to top up! There is also a supervised children's room where your kids can play safely whilst you sweat away your stress. After you've worked up an appetite, there are a number of restaurants conveniently situated underneath the gym, where you may be tempted to grab some (healthy) food on your way out.
Despite initial impressions, Gold's Gym Nile is a great place to work out and stocks all the equipment you'll ever need to reach your ideal physique. We wouldn't limit this place to just working out either, it's a great place to socialise and meet new training buddies.