Hers: Ladies-Only Gym Opens Second Branch at Emerald Empire, New Cairo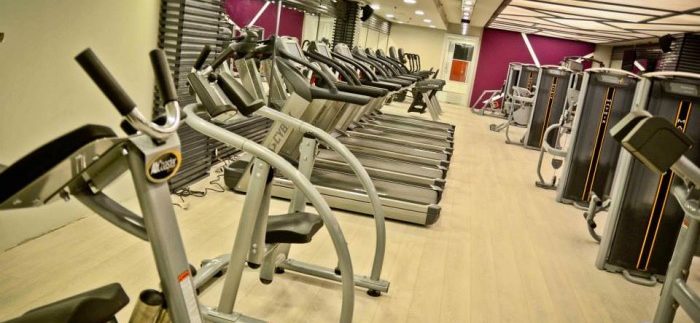 Usually geared towards testosterone-fuelled men, gyms in Cairo often neglect the needs of the body-conscious females amongst us. After successfully opening their first branch in Heliopolis, women's only chain, Hers, has recently opened a second, larger establishment at multi-venue complex, Emerald Empire, in New Cairo.
Visible from afar, to the far left of the plaza, Hers' first floor entrance is easily accessible from a set of escalators and conveniently placed next to Glee Zone; a fitness and entertainment centre for kids. Greeted by friendly and well-informed bilingual staff, members are immediately put at ease before heading through to the changing area.
Immaculately kept, the locker area is small but adequate, whilst private cubicles are available for changing. Rain head showers are hidden behind frosted glass doors, whilst the spa area is truly impressive. With calming grey hues and natural wood accents, the Jacuzzi, sauna and steam room are incredibly inviting and perfect for pampering. Although not yet operating, there are plans to incorporate an on-site beauty parlour and massage room.
The gym itself is brightly lit and clean, lined with large mirrors to give a feeling of extra space. Much larger and less cramped than its other branch, rows of top-of-the-range machines are spread out, easy to use, and aim to cater for every muscle in the body. Although the range of free-weights is almost non-existent, most find the machines more-than-sufficient as an alternative. There is also a well-stocked, tidy refreshment bar for convenience.
At the far end of the gym, a glass-fronted spinning room caters for large groups of bikers, whilst the aerobics room is even bigger, with a small stage at one end. The Hers franchise boasts the famous Australian, choreographed fitness classes from Les Mills, offered at different times throughout the week. A second group fitness room is shared between Hers and the neighbouring men's gym, Balance Gym.
As with most gyms, various membership options are available, and membership at one branch allows you free use of the other. At the time of our visit, a one year membership was discounted to 3150LE from 4200LE, and included three months freezing, three personal training sessions and one nutritional assessment. Short term memberships, meanwhile, are offered at six months (2700LE), three months (1650LE) and one month (800LE). Personal training sessions are sold in blocks of ten or twenty, starting at a little less than 1000LE.
Hers gym offers women a sanctuary for fitness and relaxation, where they can work-out and unwind in private, at surprisingly reasonable prices. Already a hit among Cairenes, don't be surprised if we see another branch open this year.