Indra Day Spa: Authentic Asian Treatments in Maadi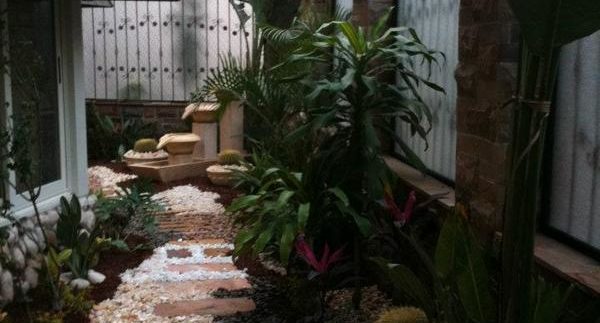 With the daily stress and pollution we live with in Cairo, one must not forget that just as our body needs to be shaped and toned, it also needs to relax and be pampered. Indra Day Spa, located in Maadi, is an Asian-inspired spa and with their motto 'a tranquil and relaxing retreat from everyday life' we couldn't think of a better place to dust ourselves off in.
The essence of the Far East is felt the moment you step in. The music is exotic and the lighting is dim; running water can be heard from the little fountain at the entrance and the aroma of oils fills the space. The décor is simple with a mostly brown, beige and green colour palette. Though the place is not very big, it's cosy and peaceful.
The receptionist welcomed us and asked us to fill out an application with our contacts and any medical conditions. Meanwhile, they served us hot mint and a little cold towel to refresh and wipe the outside world off with.
The services offered are plenty. Massages are all Asian inspired and are carried out by professional masseuses. The four choices are: a Traditional Malaysian Massage (360LE/60 mins-480LE/90mins); the Indra Aromatherapy Fusion Massage (300LE/60mins-420LE/90mins); a Signature Deep Tissue Massage (300LE/60mins-420LE/90mins); and a Relaxing Foot Massage (260LE/60mins-320LE/90mins).
We decided to try the 60-minute aromatherapy fusion massage session. We were greeted by our masseuse and asked to choose from three different types of oils for the session. Passing the reception, we reached a dim area where a quick foot massage and scrub were given. We immediately felt the stress being relieved.
Entering the massage room, the masseuse gave us a bikini-like outfit in a sealed plastic bag. Though she spoke no English or Arabic we managed to communicate using hand gestures instead. The masseuse knew exactly what she was doing and worked every tense area perfectly; the head massage was the best part but it deserved more time.
After 60 minutes of heaven, we returned outside where the receptionist asked about the experience and in turn, we left a note in their guest book sharing what we thought.
There are plenty of other services offered by the spa. You can pamper yourself with one of the natural facials (250LE/60mins) or try one of their 'body polishes' which are offered at 290LE for a 45-minute session. Essentially a body scrub, they come in different choices such as Coconut and Vanilla Body Treatment or the Energizing Ginger Salt Scrub.
Another body treatment is the 'body senses' (370LE/60min). Pastes and body wraps made from natural ingredients brought directly from Asia are used where the treatment exfoliates, hydrates, balances or improves blood circulation.
Last but not least are the rituals. The Immersion Rituals (150LE/30mins) will soak your problems away either in the Rose Blossom & Honey bath which is inspired by Cleopatra's milk bath, or the Tropical Bath with essences of jasmine, sandalwood and rose.
Each treatment has a philosophy behind it and is based on professional standards. All ingredients are natural, authentic and from Asia. Make sure you understand each treatment and choose the one suitable for you. Don't forget to book an appointment online or by a call a few days ahead.