Intercontinental Cairo City Stars: Luxury At a Price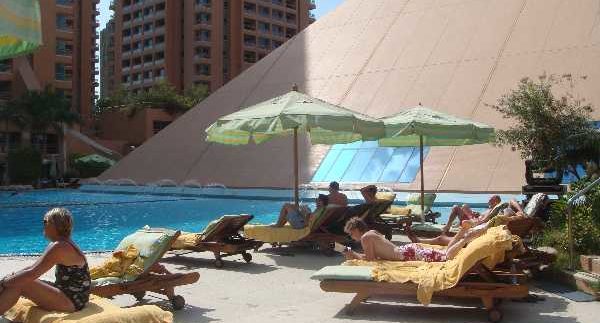 What are we Cairenes
to do when we need major relaxation but we're too busy to get away for the
weekend? Well, there's only one good solution– day use– and if you want to do
day use in style; we recommend the Intercontinental Cairo City Stars. Day use
at the Intercontinental includes a poolside room, up to 150LE per person for
food and drink as well as all-day access to the pool, a gym and a health and wellness
centre. Spend an afternoon at the Intercontinental; and we guarantee that you
will feel fresh and fabulous again.
The large outdoor
pool wraps around a gigantic glass pyramid. With sections for children and
adults, the pool extends from 3ft to 8ft-deep. It's not ideal for laps; but
it's perfect for a casual swim. The best part of this pool is the in-pool bar. That's
right, there's nothing like eating a hot lunch and a cold drink while still
sitting in the pool. The burger (60LE) is deliciously juicy, though the veggie
pizza (50LE) was mediocre. Note: the pool bar serves alcoholic drinks,
including cocktails (50LE to 70LE) and beer (30LE). Fresh juices (20LE to 30LE)
are also available.
The poolside lounging
area is a great place to sunbathe, with umbrellas available for those who prefer
the shade. Mid-afternoon, the staff offers guests complimentary popsicles made
of fresh mango, strawberry and guava juices that are delicious in the summer
heat.
The health and
wellness centre is not to be missed. There's a state-of-the-art gym that has
virtually every machine you'd ever need including pulley machines, treadmills
and free weights. There are also rooms for billiards, squash, pilates and
boxing. Separate locker rooms for men and women branch into steam rooms, saunas
and jacuzzis that will melt all of your body's tension away. There is also a hydro-pool,
which is one of Cairo's
largest hot tubs, and is open for men and women.
Our poolside room was
like stepping into heaven: terrycloth robes and slippers, a fully stocked
bathroom with complimentary goodies, a shaded balcony overlooking the pool and
lounge area, and the most comfortable bed that we've ever rested on.
Day use at
Intercontinental Cairo City Stars allows you to use the facilities from 10AM to
8PM. A single room costs 830LE, while a double room costs 980LE. While it's
certainly one of the most expensive day use options; we still highly recommend
it if you can afford it. We're definitely going back!