It's Fishy: Strange Fish Pedicure Treatments at Citystars Cairo
City Stars, Phase 2 Ground Floor, Omar Ibn El Khattab Street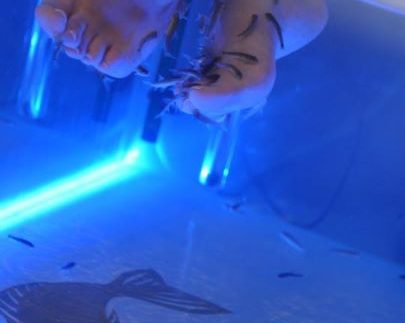 Already extremely curious about fish
pedicures, this reviewer was overexcited when news broke that Cairo would imminently have its very own fish spa in Citystars in Heliopolis. When the
spa finally opened, we couldn't wait to see what the big fuss was about.
It's Fishy
has opened on the ground floor of Citystars' Phase 2 close to Golden Cinema
and Choco Falls. It's Fishy is an ultra sleek salon with trendy décor.
It's hard to believe that you're in Citystars actually; it might as well be Fifth
Avenue in New York City. This salon specializes in pedicures and manicures with
the help of fish. Yes, you read that right. These fish are called Garra Rufa and
they eat dead skin, leaving the good skin untouched. Before you get Jaws-related
nightmares; the fish don't actually have teeth. They just nibble a bit.
Before
you step into the fish tank, your feet are washed and disinfected by the staff.
They will hand over a pair of slippers that you can take home after your visit.
There are eight fish tanks in the salon; two of them are behind a curtain if
you want full privacy. As soon as you put your feet in the water, the fish rush
over and start nibbling. It's kind of how we imagine piranhas would attack when
you take a nice, refreshing swim in the Amazon River.

The
nibbling feels a bit odd at first; it tickles but in a very nice way. After a
while you'll get used to it. If you find it really uncomfortable; then move
your foot gently. It's really funny to see the fish nibble on your foot and
the result is not bad. Afterwards, our feet felt very soft and there was no
trace of dead skin. When you are done, your feet get washed and disinfected
again.
You can try
a fifteen-minute treatment for 40LE and a 30-minute treatment for 80LE. Although
the salon was impeccably clean at the time of this reviewer's visit, there are
some general concerns about the hygiene and safety of this type of treatment.
It's Fishy claims to change the water daily and wait at least ten minutes
between clients while the water is being filtered. A little online research
showed that the practice is actually forbidden in some US states, and recent
British research warns that fish spas could spread diseases.

We aren't saying that
any of this would happen at It's Fishy; it's more of a general warning to keep
in mind. So before you go, inform yourself about the practice. The staff is
very nice and you can ask them anything you like.