Kriss: A Funky Beauty Salon in Mohandiseen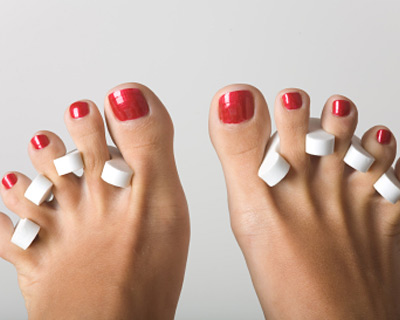 In theory there is
nothing more relaxing than spending a morning or afternoon at a beauty salon to
get pampered and spoiled. Numerous adverts, films and brochures give the
impression that all it takes is to lie down and have someone take care of you.
Of course, in real life we all know this is not exactly the case where most of
us have probably witnessed a fellow patron breaking down in tears because
eyebrow shaping can be so painful. After all, the saying 'beauty is pain'
didn't come from nothing.
With summer
approaching we felt the need to head down to a beauty salon for some necessary
maintenance. We decided to try Kriss by Aswan Square in Mohandiseen, just
across from Gouthe and Tornado. Kriss
has several branches all over Cairo and is quite a big name in the beauty salon
market.
The entrance to the
salon is bright and very white; the amicable staff will help you from that
point onwards. Downstairs is a section for men only, where gentlemen can enjoy
a haircut for 50LE, while the upstairs division is all for the ladies. After
specifying our waxing and sugaring wishes we got led into a private room with a
very friendly practitioner.
The waxing (45LE)
was done swiftly and with precision. After finishing, the practitioner made sure
to remove all the wax residue and applied oil to soften the skin. The sugaring
(70LE) process was as painful as ever but very thorough; thankfully the
practitioner works really fast so you are only in pain for a maximum of ten
minutes. There is a shower conveniently located in the room, making it easy to
rinse off afterwards – upon finishing we were presented with a cosy towel.
Though the venue is very clean overall, we still spotted some hairs on the
floor and in the towels.
After finishing these
treatments we decided to have a pedicure (50LE), it is shibshib season after
all. The manicure/pedicure department has two chairs for pedicures and a few
seats for manicures. The design is quite funky and the flowery chairs are
without a doubt some of the coolest we've seen in a beauty salon. The pedicure
started off with a nice hot bowl and afterwards came a lot of filing, buffing and
cuticle cleaning; our feet also received a scrub and our nails were perfectly
cut and filed. Though we wanted to have our nails polished, the pedicurist
advised against it because we didn't have flip flops. While we didn't get our
own hair done, we couldn't help but notice how great other ladies' looked after
styling.
Apart from the
treatments, Kriss also has a little shop where you can buy hair products such
as shampoo, conditioner, blow dryers and hair stylers. The same brands used by
the salon are on sale such as Chi and L'Oreal.
With its pleasant staff and good service, we definitely wouldn't mind
returning to Kriss.