La Coupe: Efficient Hair & Beauty Treatments at the Dusit Thani Lakeview, New Cairo
Dusit Thani Lakeview Hotel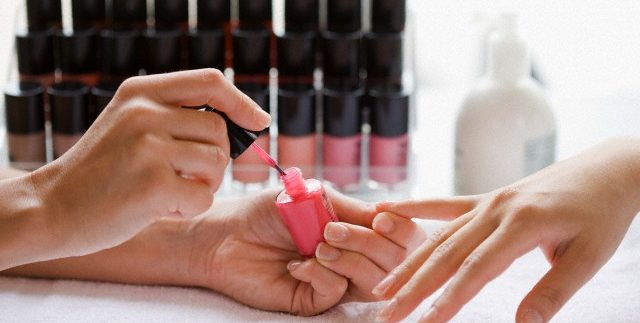 With the growing population of New Cairo, beauty salons are in high demand, with several of the cities well-known hairdressing brands opening up on the outskirts. Hidden in the basement of the five-star Dusit Thani Lakeview hotel, La Coupe can be found at the end of a long, almost desolate corridor, and down two flights of steps.
Flooded with artificial light, the salon is bright and orderly, with two rather tawdry purple sofas and a copious number of hairdressing stations with full length mirrors. Very cramped in comparison, there are separate rooms for nail treatments and hair removal.
Walking in without an appointment early in the morning, we managed to avoid any wedding or engagement parties and were seen to immediately. Best known for their work with hair and bridal packages, we requested a wash and blow dry (90LE), a manicure (50LE) and facial threading (20LE).
Cloaked in a slightly worn-out robe and directed towards a row of wash basins, the assistant proceeded to thoroughly wash our hair whilst firmly massaging our head, before a second assistant blow dried and gently detangled our knots. Our hairdresser quickly appeared to swiftly complete our required wavy-style – we explicitly asked for the use of a brush, and for our hair not to be curly. Although admittedly the end result was pretty, it did end up curled with heated curling tongs, which wasn't exactly what we wanted.
As we were pressed for time, we asked that our manicure be done at the same time as our hair; a request that was duly carried out. Whilst the range of nail polish is adequate, we noticed the omission of a wide range of both neon and pastel colours. Although we were aware of several broken nails, our fingernails were filed a little shorter than expected, but ended up tidied and shapely nonetheless. The beautician's intense snipping of cuticles led to a little soreness in one finger and one thick coat of nail polish was left looking a little untidy round the edges. Unusually, a base coat, but no top coat was applied.
Afterwards, we were led to the tiny waxing room, where our threading session was quick, meticulous and no more painful than usual.
La Coupe at the Dusit Thani is one of the better-hidden salons, particularly convenient for emergency visits, with efficient staff and professional hair and beauty treatments.