La Villa No. 36: Top Notch, Relaxed Salon in Dokki
10AM-8PM, Closed on Mondays -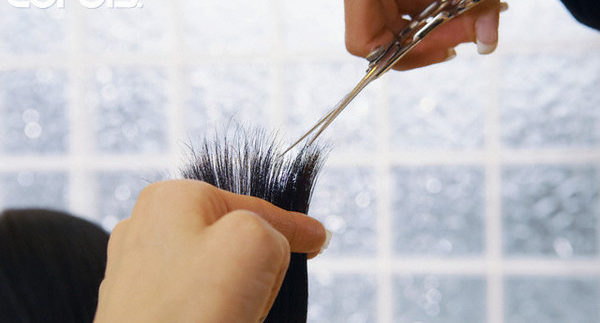 What is it about haircuts that even the thought of going feels like a gruelling task in Cairo? It's never been a simple one for us, as anxiety and indecision seem to tag along like the plague. We're thankful to say that we've found a place that not only puts us at ease but fills the experience with enjoyment and satisfaction each and every time.
Tree-lined and with an inconspicuous stone sign, La Villa No. 36 is easy to pass on by. If you look up though, you'll notice the sprawling two-story pink villa popping out from behind the foliage. Enter through the gate, follow the pathway and you'll find yourself in a haven of relaxation within a matter of minutes.
The staff at La Villa is as friendly and professional as they come. After signing in, you'll go on to be dressed in a clean, white robe and offered a variety of beverages including tea and juice.
La Villa's design is boast-worthy; punches of colour are found in the tiniest of details, 1960's themed screen prints line the walls and last but not least, the workrooms are beautifully serene and spacious. Continuing with the brightly coloured theme is a large, circular hot pink couch for those waiting. Alternatively, you can have a seat on one of their balconies nestled among the trees – watch out, though, as the cosy chairs with deep cushions have a tendency to suck you right in.
In terms of services and price, La Villa's menu is on par with others around town, although running short on massage services. A Thai masseuse comes only once or twice a week, depending on the schedule. Massages start at 250LE and are available just for women, unfortunately.
What La Villa is best at, though, is taking care of your treasured locks and a mighty fine job they do. Household names for many, the French duo Paul and Christophe have always treated hair with the upmost care and precision – though Cristophe has sadly departed. The staff listen to their clients' desires but don't stay quiet about what would suit the individual best, paying attention to facial and body structure as they do so.
Other stylists are also available including the talented Ehab. With a sense of humour and dance moves in tow, the entertainment is always appreciated. Haircuts begin at 150LE, including a shampoo, sleep-inducing head massage and blow-dry.
Hair removal, manicures and pedicures are also available. For 30LE and 40LE, the nail treatments are thorough, taking care of hangnails, tough cuticles and any other pesky nail problems that one might have. High quality OPI nail polish is used and a topcoat always offered to ensure a long-lasting paintjob.
When all is said and done, La villa is where it's at. From their great customer service to the lively atmosphere and reasonable prices, it's no wonder they stay busy and are sometimes booked for weeks in advance. Walk-ins are available but we recommend calling ahead.