Le Figaro: Zamalek Beauty Salon Stuck in Time Warp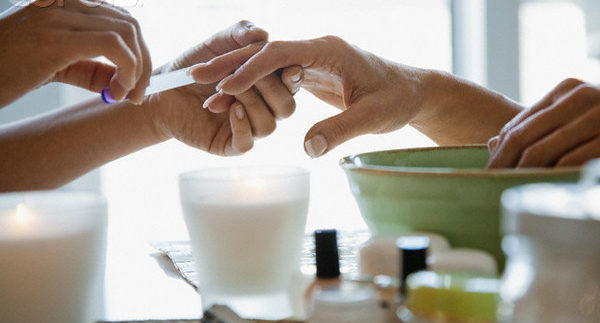 If there is one
shopping centre in Zamalek that is often neglected it's the Degla shopping centre
on Hassan Sabry Street. Many people are completely unaware of the existence of
the centre and when you arrive there the entire place is often empty. Le Figaro
is the one hairdresser located in the shopping mall. You can find it on the
second floor tucked away in the corner close to Ghazl El Banat.

The interior of Le
Figaro is so outdated it's retro; the 70's prevail. However, everything looks
very clean and well taken care of. There are fresh flowers on the counter so
you can't say they aren't trying to make something out of it. It's best not to
look at the pictures of brides on the wall above the cash register. The brides
featured in these pictures are probably already celebrating their 25th
anniversary and so are their haircuts. Most of the products on display are L'Oreal
and Chi which are of course known to be very good brands for hair products.
We decided to go
for a wash and blow-dry (80LE) and a manicure (35LE). The best thing is that we
had both done at the same time which is a huge time saver. It did mean, however,
that our manicure lady got blown away by the hair dryer every once in a while,
but she seemed able to cope with that. After having our hair washed we took
place on one of the seats and let the hairdresser do his thing. The only
instruction he was given was: volume. The manicure started off well but the end
result wasn't too pleasing. Instead of making the nails pink or leaving them
clear, they were covered with light white polish. This would have been ok had she
applied just one layer instead of two and if the nail polish wasn't expired.
Unfortunately we see a lot of old nail polish being used around town, resulting
in ugly, unevenly polished and messy nails.
Our blow dry fared
well but just like the interior it was 70's inspired. Though we don't mind
looking like Farrah Fawcett every once in a while, it wouldn't hurt the stylist
to keep up with trends. However, we woke
up the next morning with our hair still looking good. The hairdresser advised regular hair masks; he
isn't just there to make you look good but he takes care of your hair too.
Though we were
satisfied with the blow dry, 80LE is a bit on the expensive side and we hope Le
Figaro will use that money to invest in new nail polish.