Markaz Man: Pampering for Men in Haram
39A, Khatem El Morsaleen St.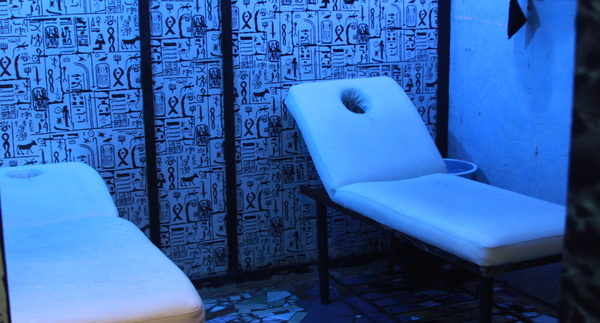 The allure of the hammam is classically Orientalist: overhanging archways, Islamic tiled floors, marble slabs cool-to-the-touch and various pools where patrons denude and engage in the ancient traditions of bathing.
Sadly, for a city that once boasted a vibrant hammam culture, it isn't real. Cairo's remaining hammans are crumbling in disrepair and tolerable at best, where only the daring go and the fastidious stray. Besides, what's so romantic about submerging into a hot tub with six or seven others shedding their skin and sweat?
Luckily, however, beauty parlours and barber shops are starting to offer a hammam alternative like the one year-old Markaz Man, or 'Man Centre', in Haram. On top of a cheap cut (20LE) and a close shave (15LE), the Man Centre provides an affordable, private hammam experience – strictly for men.
For 100LE, patrons at Markaz Man get access to a steam room, a thorough body scrub and massage, all in the comfort of one's privacy. Lined with hieroglyphic wallpaper and tiled in colourful mosaic, the backroom of the parlour is fit for a Pharaoh.
The treatment begins with a change into shorts and a visit to the steam room. In lieu of a hot tub, patrons sweat to the spurts of steaming vapour and cool down in a tub made for one.
After a few minutes, the attendant beckons us to a pleather table for a four-feature scrub down. First, we lie belly-up and then face down as he scrubs vigorously from head to toe, revealing how long it's been since our last shower. After a quick rinse in the adjacent shower, the attendant paints our bodies with a Moroccan clay mixture and then pops us back into the steam room to bake.
After ten minutes, we rinse and lie back onto the pleather surface where soapsuds wash away our inequities, turn over, repeat and rinse. In a final act, the attendant pumps a honey-like conditioner onto our skin that lathers and tingles our pores. We rinse and then return to the steam room to warm up.
If that were not enough, we undergo a thorough pampering massage with a cooling cream. The attendant's fingers press deep into our folds and joints, waking up every bone in our body. After a final rinse, with our arms splayed out, we are then perfumed like a bridegroom before his honeymoon.
Throughout the treatment, during rest times, the attendant maintains the clean space.
At the time of review we also sampled the facial (25LE) and a mani-pedi (50LE). The first was an incredibly relaxing treatment that lasted nearly 20 minutes and left our mouths open as we fell asleep and our miens aglow. The latter, however, was a bit rushed. Using the blade-grater method, usually frowned upon, the attendant scraped at our thick, rough soles with no remorse.
The nail buffing and clipping could have been more meticulous, as a few broken cuticles were left for our grazing. With a quick brush of protective polish, the three-tiered pampering session came to a happy end at only 175LE.
Man up and treat yourself to a hammam without the hammam.