Mom's: Play Time for Mom and the Little One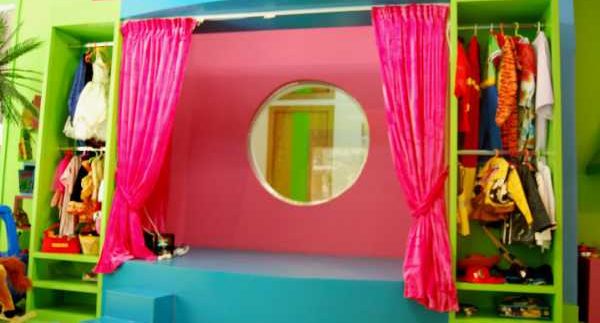 If any of you
young Cairene moms have ever wished for just a few sane hours away from the
kids for a breather or some pampering, Mom's may just be the place for
you. A nursery/café/salon in Zamalek,
Mom's is a new day-care concept offering children interactive playtime while
mommy takes a load off by enjoying a latté, manicure or scalp massage. Pretty great, right?
Located on the
corner of the intersection between Bahgat Aly and Ismail Mohamed Streets, the building has a bright pink sign
that's hard to miss. Donning plastic booties over our shoes to keep the space sanitary,
we were escorted through the various rooms, which included a tree house, jungle
gym, trampoline, theatre play area with karaoke, elaborate costumes and
puppets, an arts and crafts corner, a game and puzzle zone, a small play
kitchen, room to play football, and even a mini child's exercise gym with a treadmill
and exercycle!
Around the other
side, moms can relax in a small modern café with books, newspapers, magazines
and Wi-Fi, or in the nail spa and hair salon– all the while watching the play-happenings
on a flat-screen TV. There is also a password-protected website that parents
can log into, where a webcam shows you the playroom and what your kids are up
to. Parents can only leave their children alone for a maximum of three hours
before coming back to accompany them.
Mom's is intended
for kids aged between six months to seven years, and the staff are well-trained
in childcare and the arts. There's also a
newly launched area for children aged eight to ten years, featuring video games
such as Playstation and Nintendo Wii. Mom's
offers a variety of classes, such as cooking, art, dancing and singing, story-telling
in Arabic and English, photography and aerobics, in addition to informational
sessions on motherhood and healthy lifestyle tips for the grownups.
Mom's works by
membership as well as on a drop-in basis. Memberships can be on a month to
month basis, annual, or semi-annual for a period of six months, and they average
around750LE to1000LE per month with various babysitting options. Visitors' rates are on an hourly basis and
start at 55LE per hour, 35LE for each additional hour, or 135LE per day
(siblings get 50% off). Mom's also hosts intimate birthday parties at 80LE a
head (100LE for grownups), and is open from 10AM to 10PM every day of the week.
For feedback from parents about the establishment and
its services, check out the user comments on www.cairokids.com.