Nail Fashion: Flashy Salon at Downtown Katameya Mall, New Cairo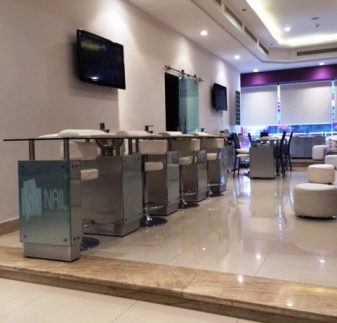 Beauty salons in Cairo are more used as a necessity than a luxury, and can be seen lining the streets of the busy city. For those living a little further out in New Cairo, however, salons are few and far between. With a decent reputation for nail care, Nail Fashion has set up shop in the Downtown Katameya Mall.
Situated on the first floor of building S2, the frosted-glass fronted salon is adorned with sprawling purple illustrations, just like their Citystars branch. Beyond the double doors, an extra frosted glass pane shields the salon's floor space from the sight of passersby, for extra privacy. Brightly lit, the salon is spacious and airy, with full-length windows stretched across the back wall.
A white and purple colour-scheme is reflected throughout, with a garish, purple leather couch for waiting customers, and white manicure and pedicure stations. On first glance the salon appears clean and sterile, but when looking closer, there are obvious signs of un-cleanliness, and wear and tear in the furniture.
Placed next to the receptionist, the varied nail polish displays are well-kept and orderly, organised into brand and shade. Alongside the popular Orly, OPI and Essie brands, there was also a wide range of longer-lasting gel polishes.
Despite the name, Nail Fashion don't limit themselves to just nails, but also offer a range of beauty services, including manicures and pedicures, waxing and hair removal, make-up, facials (300LE+) and massages (400LE+). We opted for a full arm (60LE) and underarm wax (40LE), as well as a manicure (70LE) and pedicure (80LE), all of which seemed a little overpriced compared to other established salons.
Beginning with the waxing, we were lead through another frosted glass door to a small private room which appeared clean but a little untidy. Whilst the beautician was quick, a few hairs remained, even after rigorous re-attempts of pulling in the wrong direction. Afterwards, a generous layer of baby oil was spread over our skin, before we were handed a fragranced, scolding hot towel which burnt our fingertips.
Next, we were seated in a comfy armchair in front of a pedicure basin and relaxed as our feet were scrubbed and massaged, before our nails were perfectly shaped and painted. During the filing, we unfortunately suffered a broken nail which was dutifully glued back together so as not to upset their appearance. The same, thorough treatment was given to our hands, leaving us with clean and tidy nails, as well as soft skin.
Whilst the waxing experience wasn't the best, with almost unjustifiable prices, Nail Fashion employs a team of practised nail technicians, making it one to visit for basic nail treatments when everywhere else is busy.