Nails & More: Cutesy, Intimate Salon in Zamalek
26A El Gezira El-Wosta, (Off Abou el-feda)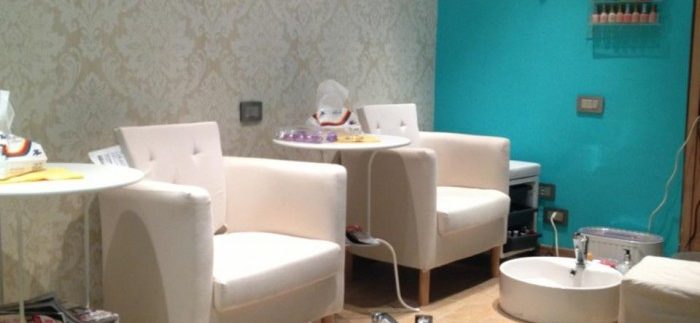 With hair and beauty salons being some of Cairo's most essential businesses, it's a surprise that so many fall short of expectations. Harbouring a reputation as the city's food-court Island, Zamalek is steadily expanding into – and arguably hogging – the salon scene. Newest spa and salon, Nails & More, has opened up almost next door to Toi, on El Gezira El-Wosta Street.
With valet parking close-by, the small salon is easily noticeable with their large motif spread over the front facade. The frosted glass front door is locked for extra privacy, concealing the girly haven beyond; using shades of aquamarine, hot pink and soft creams, along with pretty chandeliers, the salon is both trendy and cosy.
Calling only a little in advance, we were graciously slotted in at our desired time for a manicure (50LE), as well as a full leg wax (80LE). The salon also offers hair treatments such as brushing (70LE), cuts (100LE) and highlights (300LE+). A full range of spa treatments are also available including Moroccan bath (250LE), massages and body scrubs, facials, makeup and acrylic nails.
Reputable hair, nail and beauty products are sold from behind the counter; namely Orly nail polish.
Before being shown through to the waxing room, we were offered a complimentary drink, and took it upon ourselves to choose our nail polish; the tidy displays sport numerous shades and brands. The waxing room is a little cramped, but adequate and clean nonetheless, with fresh towels strewn over the bed. Aside from a couple of wires hanging from the wall, the room carries the same, homely feel as the rest of the salon. Seen to by the owner herself, the process was fast, thorough and virtually painless; afterwards we were handed a fresh towel to clean off any extra oil, and left to re-dress in private.
With just three seats, side tables and fixed pedicure basins, the nail-care area has a relaxing vibe and due to limited seating, is unlikely to ever become over-crowded. Our manicure – carried out by a technician named Marwa – was equally as thorough as the waxing, with the usual filing and cutting of cuticles, before our hands were exfoliated and oiled with a delicious smelling perfume. Two coats of our chosen nail polish was applied absolutely flawlessly, with both top and bottom coats to improve longevity.
Nails & More is a cutesy, professional addition to the growing number of salons in Zamalek, we just hope that – as its popularity grows – the schedules are managed effectively to avoid overcrowding.
Khalda Ibrahim
The place is excellent and loved the work done, plus it's super cozy and the people are friendly
Khalda Ibrahim
The place is excellent, the people are very nice and super friendly
Write your review