Nile Country Club: Budget-Friendly Family Pool
Hadyak Helwan - Kornish El Nile - Cairo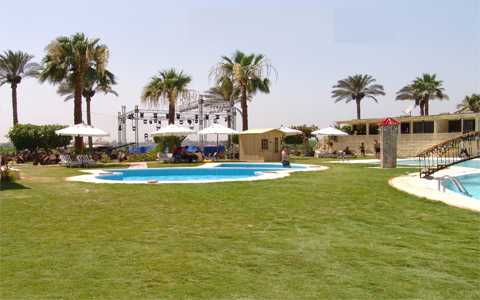 Over
the past few weeks, we've been on a hunt for the best pool day uses around
Cairo, ranging from budget-friendly to top-of-the -line swanky. Another sun-worshipping
session was in store recently, so we decided to head out to a wallet-friendly
country club to see if it would satisfy our therapeutic needs.
Located
approximately eight kilometres due South on the Maadi Corniche past Alfa Market,
the Nile Country Club is surrounded by greenery and a few simple changing rooms,
separate for men and women.
The
pool area caught us off guard at first sight. With shaded cabanas and very few
chairs available to catch the rays, it was totally packed by 11AM with many
families. Our preparation for a day by the pool wasn't enough to say the least.
We arrived in simple cover-ups and bathing suits, and seeing as how the few
female patrons around were dressed in shari'a swimsuits, we felt uncomfortable
and a bit out of place.
That
being said, the pool is clean and works great for a family day in the sun or for
a group of guys. Conjoined by a wooden walking bridge, the pool area is
composed of two circular-style swimming pools of medium size. While it's nothing fancy, it does the job for
a mere 40LE for day use.
A
children's play area and two different restaurants are on site, including the
Albergola Café outside. For something more formal, the Blue Nile restaurant offers
a full-scale hot buffet to fill your cravings after a day in the heat. The club
offers two types of buffets: the silver buffet consists of standard oriental
mezzas and cold meats, in addition to shish tawook and other grilled options,
followed by standard desserts. The gold buffet offers a more elaborate selection
of hot plates and desserts. We were a bit perplexed by the menu's description
of 'buffet tragedies', featuring more standard dishes, and were obvious turned
off from requesting them. If the moss chicken liver is a buffet tragedy, then
we'll take their word for it.
The
club also offers tennis and football fields, as well as table tennis and pool
tables. Wi-Fi internet is also available on the premises. A Bedouin tent on the
Nile banks promises a spectacular sunset view and is decked out in traditional Bedouin
fabric and colours. The club promises a night of dancers and oriental music in
the tent, though we weren't able to stick around to check it out.
Cabins
are also available on site for day use (250LE) overnight stays (350LE) and can
fit up to six people. For more information, check out their website.