Novotel Cairo El Borg: Basic Day-Use Pool in Zamalek
3, Saray El Gezira St. Beside Cairo Opera House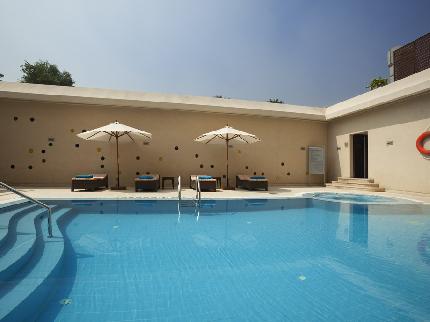 In the ongoing
search for Cairo's most relaxed and chilled-out pool the Cairo 360 team
are spending an awful lot of time jumping from pool to pool around the city. Though our
bodies are nowhere near bikini ready (damn those restaurant reviews) we have
taken it upon ourselves to keep searching for your sake. Looking to escape the harsh Cairo sun, we found refuge at the Novotel Cairo El Borg in Zamalek.

The best part about
the Novotel is the fact that hardly anyone is ever there, ensuring lots of
privacy. Another nice feature of the hotel is the children's playground with the huge Barbapapa
and Barbamama dolls. The pool is located on the ground floor and is fairly
small; with just 10 sun beds, it doesn't cater to large groups at all. For
250LE you can use the pool, gym and Jacuzzi. The Jacuzzis are very inviting but instead of being near
the pool on the ground floor, the Jacuzzis are actually on the roof – this
means you have to walk into the lobby, take the elevator and go up to get to
them. The gym is small, basic and almost seems like a token feature.

The sun beds are
comfortable and though the pool is small, it's clean and cool. At around half past
four, the shade starts creeping in so you'll find yourself having to move around
in order to catch some rays. Another unfortunate detail is the fact that the
staff from the upstairs restaurant seem to spend much of their time gazing down onto the pool which had us feeling quite uncomfortable. The staff by the pool are friendly but when we saw a member rolling up towels that were used by other
guests we became sceptical about the hygiene. Said staff member actually came
over to tell us we could use all the towels we wanted while pointing at the
folded used ones. Thanks, but no thanks.
The available
menu is diverse with lots of different fruit juices and iced teas, where the Dad
iced tea is the most expensive at 31LE; it is a refreshing combination of
cinnamon and tea. The beef burger (41LE), which comes with fries, was lacking
flavour and the bun was stale.
At a price of
250LE, the Novotel is one of the more expensive day-use pools out there, but unfortunately
it didn't live up to its price. The facilities, while adequate, are completely unspectacular and little staff peculiarities made the experience all the more uncomfortable.