Nūn Center: Intense Yoga Classes in Zamalek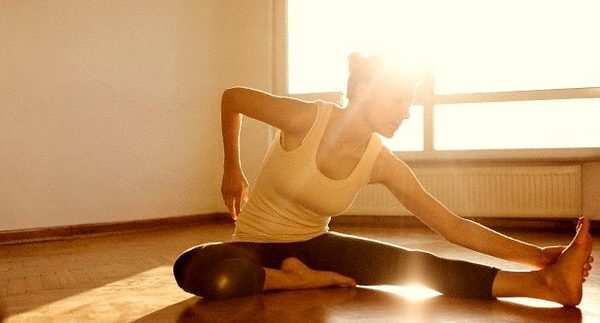 We have
been a bit infatuated with Nūn Center in Zamalek lately. It's such a calm haven amidst a bustling Zamalek, so we can't help but visit every once in a
while looking for escape. Last time we visited we had the Chi Nei Tsang treatment and this time we
opted for the yoga class by Chirayu.
For all
who haven't yet had the chance to fall in love with it, the centre is located in a villa in the closed down part of
Shafik Mansour Street near Hassan Sabry Street. Go past the Dutch embassy and
take a left before the shopping mall. Upon entering the street, you will notice
the bright green and red logo of Nūn on the gate. Enter through the garden from
here and take the stairs to the first floor. There are yoga classes taking
place at Nūn Center for the entire day. It starts in the morning for all the early
birds and the last class in the evening usually starts around 7.30PM. At the
time of our visit, the evening class was extremely busy. We didn't really mind though, because
being yoga novices, this was a good reason to crawl away to the back of the
room and hide behind others.
Chirayu
is a very experienced yoga instructor and explains all the yoga moves perfectly
before walking around and correcting your stance. Even though the class was
very full, we didn't feel missed out; there was still
a lot of individual attention. The class started off with a few warm up
exercises before moving onto the hard
work. The class was varied and we didn't get bored for a moment. We practiced a
lot of different moves and in between them, Chirayu gave tips for when you want
to work out at home. The class is pretty intense but very helpful. You will
immediately feel more stretchy and energetic.

As a teacher, Chirayu is very
attentive and immediately came to the rescue of this reviewer who embarrassingly fainted
on account of feeling a bit light headed and nauseas. We were told this is
normal during the first class and after a cup of tea we felt much better. At the end of the class there is a resting
session per usual and you are wrapped in blankets so that you don't get cold.
Unfortunately
Chirayu is about to leave Nūn Center but we are confident that the teacher that
will takeover will maintain Chirayu's high standards. The 60 to 90 minute classes cost 100LE per visit
which is very expensive compared to other classes in town. However, those who
are even only a little bit familiar with yoga will notice the high standard..