Optimum Gym: Comprehensive Gym & Martial Arts Classes in Maadi
The 13th Shatr, Zahraa El Maadi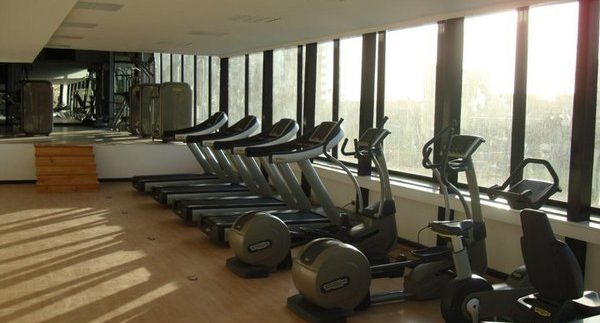 'Don't judge a book by its cover'; a saying we've all grew up with in one form or another. It usually applies to many cases in life, and while it may coincide with Optimum Gym, it's very hard to follow. Located next to Carrefour in Maadi, the road leading up to the gym is not exactly what one would call alluring or inviting; unfinished roads are gravelly and surrounding buildings are in varying stages of being built. Furthermore, the journey itself is both exhausting and off putting; getting lost is a given if you aren't moderately acquainted with the area. However, all these misgivings and senses of unease seem to melt away as soon as you reach the expansive gym.
At over 1500 m2 of space, the building is intimidating in its enormity and vastness, and you kind of feel like you're walking into a Roman coliseum rather than a gym. The interior is rather dark and mono-chromatic; the walls are painted a matte, dull grey with neon fixtures providing the lighting for the place. Despite this, the atmosphere is anything but oppressive; in fact, the place is so charged with energy you can't help but feel like abusing that treadmill for hours on end. Huge sections of the wall are taken up by floor-to-ceiling, panorama windows that overlook the football fields, the gardens or the Olympic sized pool, which is a beautiful sight that will surely make any swimmer itch to dive in there. With the sun gently sliding through the window, and with that perfect view of the crystal clear water, it is the optimum place for a morning workout.
The gym itself is quite well-equipped. There is a plethora of equipment stacked against the walls or in front of the windows, in orderly fashion, ranging from treadmills to weights and cardio equipment. Even if you're not well versed in the gym process or equipment, you will be impressed. The front desk workers are quite helpful, as are the personal trainers that are roaming around the gym, ready to assist if necessary. The gym also offers separate workout areas for women, as well as children care, a spa and changing rooms as well as tennis and football courts. The thing that stands out in this gym, however, are the classes offered. Optimum Gym offers a wide array of classes that include Aikido, Mixed Martial arts (MMA), Kick-boxing and Jiu-Jitsu, among others.
The gym membership is slightly pricey; a year-long membership costs 3240LE, with the advantage of freezing two months of your membership for later use which may be useful if you're going out of town or are simply too busy, while the six-month membership is 1890LE. However, with the facilities on offer by the gym, these seem like reasonably prices for an optimum, healthy experience.