Pro Center: Affordable Zamalek Gym With Great Machines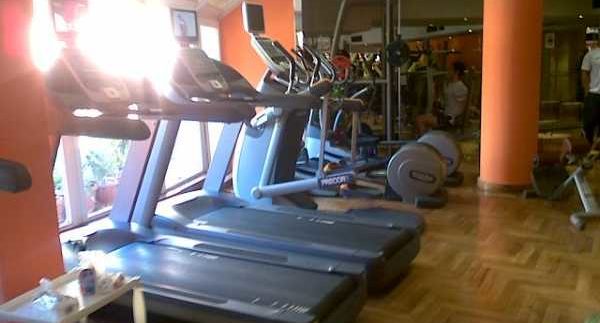 In a city like Cairo where gyms come with a hefty price tag,
it's nice to find a gym that offers great service and quality machines at
affordable rates.
Its location inside of Gezira Sporting Club
is Pro Center gym's first disadvantage: you
have to become a member of this pricey sports club to access the gym.
Once you've got your membership to Gezira
Club, Pro Center
offers decent prices in comparison to those at most top gyms in Cairo. A three-month membership will set you
back 700LE, while a full-year membership will set you back around 2200LE, which
includes full access to the gym's spinning, toning and
dance classes. The gym also has large changing rooms with a Jacuzzi, steam room
and sauna as well as a locker space. Private trainer sessions are also
available, and new members are eligible for one free session.
Located underneath the Gezira Club lido
pool, the gym itself is an oblong room with a line of treadmills and elliptical
machines facing the large windows on one side, and weight machines and free
weight areas on the other.
If you like your treadmill, you may be impressed with the several
Precor GFX and Progym treadmills that come with built-in TV screens, while the
three Technogym elliptical machines have built-in
touch screens that you can plug your iPod into during your workout.
The most popular machine of the lot is the
Precor Cardio Theater, a machine that works as a stepper as well as an
elliptical with movable hand levers for an all-round workout. Since it's the
only one in the whole gym, though; be prepared to wait a while for your turn.
On the other side of the room, at least a
dozen Pure Strength machines are lined up in two rows, offering everything from
wide and incline chest presses to shoulder presses. A small corner of the room
holds a mirror and a free weights area, which is sadly small and gets very cramped;
not a pretty visual when you're jostling with other sweaty men for a chance at
a dumbbell.
At the far end of the room, a few Progym
bikes and upper body bikes are lined up facing the mirror, while a few benches
are sporadically distributed throughout the room for your abs, upper and lower
back workouts.
The major disadvantage to Pro Center is its small, cramped space and the way the machines are arranged. It's
difficult to navigate between your chest and shoulder press machines on
a crowded day, and the sole space for mat work and stretching is the separate
room, which is also intended for group classes. So, if a class is going on when
you need to stretch your hamstrings or work on your plank, you'll have to make
do with a tiny corner of the gym.
Nonetheless, Pro Center
definitely offers the best value for money among all Zamalek gyms, though you
do have to be a club member to enjoy its benefits.