Royal Club Mohamad Ali: Where Posh Meets Practical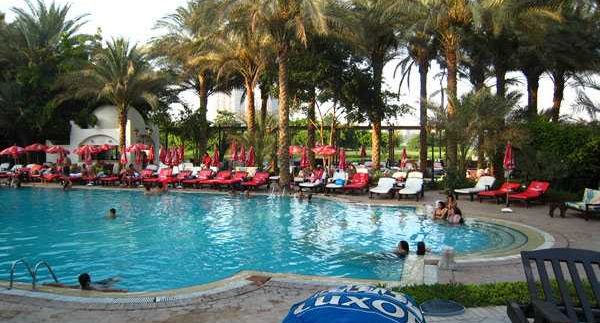 We've all been
there. Your getaway plan has fallen through, leaving you stuck in Cairo for the weekend.
That valuable time away was exactly what you were looking for and the thought of
being in the Capital has left you totally bummed.
Instead of moping
around at home, only wishing you were basking on the beach; we've got a pool
and palm tree haven that will satisfy your pining for tranquillity and provide
some sun-filled therapy. Chill out, take a breath, and pack a day bag.
Situated on the
Nile, approximately 3km South of Mounib Square in Giza, the Mohamad Ali Club is a swanky oasis,
suited to fulfil your getaway desires. The club is easy to reach via taxi but
if you choose to drive it, a parking spot will add 20LE to your tab.
If trance or
house is not your go-to music genre, make sure to take an iPod. Although the
club's sound system intertwines the pounding beats with a few 80s classics; by
the end of the day you may have had enough.
On your way in, grab
an oversized plush towel supplied by the club; it is the only thing included in
your day-use fee of 100LE.
The clubhouse,
regally named the King Fouad Clubhouse is decked out in latticework screening
and Mamluk architecture, casting a light shadow over the negative-edged,
infinity-style pool. The pool's significant size is impressive, providing
plenty of room for swimming a few laps or just playfully splashing around and having
dunking contests reminiscent of your childhood days. At the North end of the
pool, a Jacuzzi encompasses a great seating ledge for laid-back conversations
and sipping on your chilled beverage of choice.
The comfort of
the high-end wooden chairs are definitely worth mentioning. Lounge chairs can
either make or break your poolside experience and the club's cushiony sofa-like
loungers make for ultimate relaxation. Our
favourite seating spot is at the North of the pool; great for catching as many
rays as possible before the sun goes down.
Between the
Clubhouse area and the Nile's edge are lush gardens that are perfect for a serene
walk, crossing over the Badi'a bridge and onto the isolated Mahroussa Island,
whose palm groves take you into an imaginary world of island escapism. The
area's view of this City's river is quite lovely and provides a peaceful
quietness that is perfect for a few moments of meditation.
You're bound to
get hungry at some point or another; so glance over the thorough menu, which
has very similar items to that of Dar Al Amar. This isn't surprising; Dar Al
Amar's staff also operates the Club's kitchen. On our visit, we opted for the
fatoush (19LE), hummus (17LE), and shish tawook platter (38LE). The fatoush was
piled high, deliciously fresh and full of flavour; quenching our salad cravings
better than any place around. Piping hot shami bread is served alongside of the
equally tasty hummus. While the shish tawook was extremely tender and juicy,
its portion size did run a bit smaller than usual.
A can of Heineken
will cost you a whopping 28LE while a bottle of wine nears the 200LE range.
Although the prices for food are slightly steep, you won't be disappointed by
the quality and taste.
After a long day
by the beautiful pool and with a full tummy in tow, you'll be ready to leave
the swimsuit up to dry and get back to Cairo
life. While the poolside showers aren't the cleanest we've seen, the bathrooms were
fine. The car ride home will leave you in a haze, feeling whole and satisfied
from a day in the healing sunshine.
hussamhussam
Please don't go. They discriminate against women for what they wear! Banning burkini is not acceptable. And when asked about it the owner replied very rudely and aggressively. You one cell brains. May you rot in Hell with your ugly hateful mentalities.
Write your review