Safir Hotel: Swimming Pool Day-Use in Dokki
22 Refaah St. El Messaha Sq.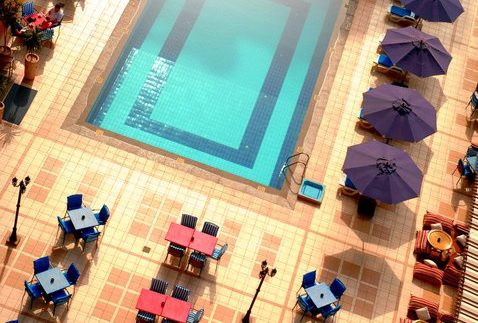 Summer in Cairo already
seems to be in full swing with temperatures rising above 35 degrees on a
regular basis, so if you are stuck in the city (or just have a lot of
spare time) it's a good idea to indulge in some swimming pool refreshment.

While the
area of Dokki is generally not the first place you'd go looking for a swimming pool, the one in Safir hotel,
located on Mesaha Square, is one of best in town.
The swimming pool
itself is quite big and measures up to 2.10m at the deepest point, which is
quite deep for a Cairo pool. The best part however is its surroundings;
regular sun beds are available but more noteworthy are the cosy booths that
come with a low table surrounded by pillows – the setup is in a
typical Dahab beach style. Combine that with the fact the hotel also serves
shisha and you have yourself a complete day at the pool.
The food at Safir
is very affordable. Mezzas are 15LE per dish and you can choose from all the
local favourites such as tehina, baba ghanough, tomeya and taboula. Dishes like
pizza and pasta are priced between 30LE and 50LE; while steaks, grilled fish
and the sorts come closer to about 100LE. The food doesn't get served at the
sun beds so if you order the staff will have a proper table prepared for you.
Alcohol is also available at the hotel, a can of Heineken will set you back
30LE.
So is it the
perfect pool in Cairo? You would almost think so. Unfortunately there is
an issue. During the summertime the hotel becomes packed with guests to
the extent where it may become uncomfortable. It seemed like male guests shamelessly stand at their balconies
the entire day, staring down at the pool area – not to mention the blatant
harrasment we received while sitting by the pool itself. Safir obviously can't be held
responsible for this but unfortunately for them, it's a huge issue that would make us think long and hard before returning. But apart from this slight problem, it would seem that this is
the perfect pool setting.
The day use at the
Safir is only 100LE per person. You can safely lock up your belongings in a
locker in the changing room and you are free to use the gym there as well. After
your day by the pool, you can also use the sauna, steam room and Jacuzzi.