Sam Coifeur: Bargain Beauty in Maadi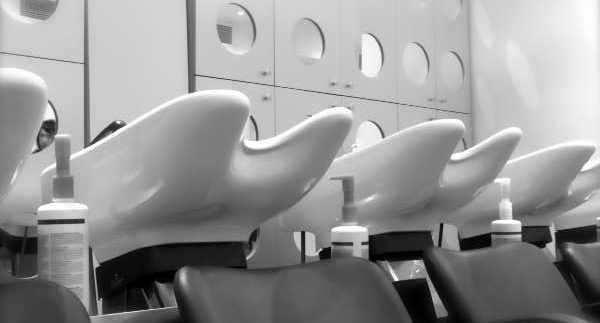 While Cairo has recently seen a surge in
the number of luxury, high-end style hair salons; Sam's is not one of
them. However, it is a great option for one-stop pre-event preparations. Sam's
offers all the regular hair treatments that you would expect from any
hairdresser; with the usual additional services such as threading, pedicures
and manicures.
With no personalised
sign on its door, yellow and red painted walls are the only indication that this
laid-back and basic salon exists on the first floor of a Maadi residential
building. Just up the steps and through a glass door, you will find
yourself in a small but functional space; where
you can sit on a simple couch on the side and browse through their collection of magazines while waiting for your
appointment. Don't be shy about accepting their offers of sodas or tea.
It is important
to stress is that this is not a salon that you go to for a relaxing spa-like
atmosphere such as that found at Mohamed
El Sagheer. Sam's seems to be built entirely on the concept of
functionality and efficiency. There are no fancy massage chairs to sit in while
getting your pedicure; but what you give up in comfort you make up for in
professional services provided by their manicurist, an older woman that studies
your nails intensely before even dipping them in water.
This reviewer had
a fantastic French manicure (20LE) that was even better than those received at
other professional nail salons. Pedicures cost a very reasonable 30LE. For any threading
services, you are politely shuffled away to a smaller room at the back of the
salon. Abeer, the eyebrow guru, may have a heavy hand; but she has a fantastic
eye for symmetry and will not stop until you are absolutely pleased with her
work (15LE).
Unlike other
salons, Sam himself cuts and styles most of his customers' hair– a wash and cut
cost 40LE. This reviewer has shoulder-length hair, but wanted a feminine up-do
for an upcoming special event. After being turned away by multiple big-name salons
for having short hair, Sam was miraculously able to style the hair perfectly,
giving the illusion of long hair professionally bunched and pinned. Even Margaret
Thatcher would have had to agree– her signed picture is hung from the mirror; thanking
Sam for the services that he once offered to her.
Over all, Sam's
is a great option if your biggest concern is quality and budget. It is popular,
but not too well known; so you can usually schedule last-minute appointments.