Smart Camp: Outdoor Sports & Entertainment in Oboor City
Entrance 5, Ahmed Oraby Institute, Cairo-Ismailia Desert Rd.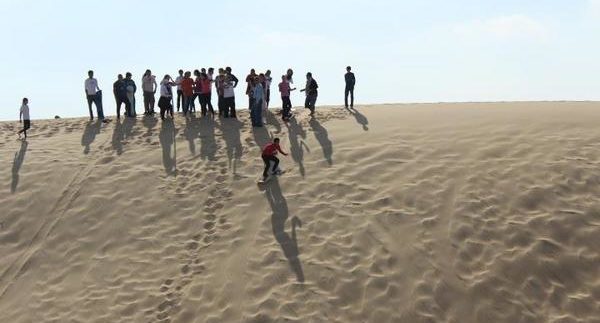 We've often searched for somewhere to spend the day while indulging in outdoor activities and alternative entertainment only to be disappointed. This is why when we finally came across Smart Camp we couldn't make our way over and see what treats they had in store.
Located inside the Ahmed Oraby Institute, on the Cairo-Ismailia Desert Road, Smart Camp is the perfect place to spend a full care-free day. Essentially farm land, robust in greenery, there are tents set up for the different activities, as well as a building designated to changing rooms and showers. Some of the sports available at the camp include sand boarding, soap football, regular football and American football as well as tennis and volleyball.
Smart Camp operates in a day-use format which starts at 9AM and lasts until 10PM. Larger groups are generally encouraged and this is because the place is usually rented out to schools and universities. One of the offered packages costs 100LE per person and allows you to go sand boarding on the expansive surrounding areas of soft sand or to try out soap football, which is essentially football on a soap covered floor – a recipe for good old fashioned slapstick fun. You can also battle it out in a coloured water fight or stick to the more conventional sports such as football and volleyball. For an extra 100LE you can even go horseback riding.
Another offer at Smart Camp is race-car driving that can have up to nine cars racing at the same time, while taking down your friends in a battle of paintball is also an option. This 200LE package also includes all other sports except for sand boarding and soap football.
A more family-oriented offer goes by 'Telematch' and involves games based on knowledge as well as fun and entertainment, appropriate for both children and adults. This package goes for 100LE per person.
When making a reservation you can add 50LE to each person for a full buffet meal that includes barbeque grills. The place is decked out with lighting and speakers if you want to play some of your own music, however, you can also hire a DJ but at a separate price.
A special option is to go camping there for a few days. With a camp fire before you, you'll surely be enticed to roast marshmallows as well as get the chance to embrace the simplicity of wilderness. A group of guides accompany you on this adventure, ensuring safety and the ultimate camping experience.
Smart Camp proved to be a fruitful experience and we suggest that next time you're looking for a way to spend your day off, this could be the ideal answer to your needs.