So Spa: Luxury Spa Treatments in Zamalek
Sofitel El Gezirah Cairo Hotel, 3 Magles Qeyadet El Thawra St.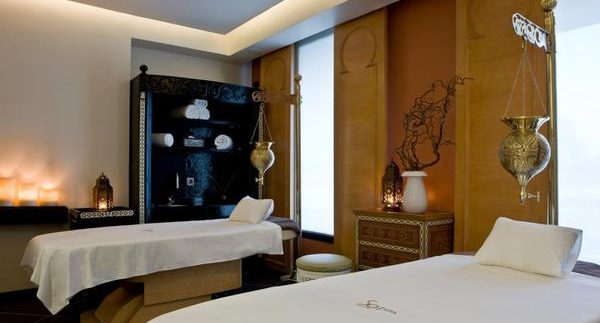 After a rough week at work hunched over a computer, we decided, just for once, it was ok to be totally and utterly selfish and indulge in a pampering spa day at Sofitel El Gezirah Hotel in Zamalek. With So Spa being under new management as of recently, we decided to book an hour-long aromatic massage (690LE).
The hotel and its entrance are beautiful in themselves being located in a secluded area, right on the Nile. We arrived at sunset, just in time for the enchanting candle ritual
–
done in the hotel lobby every evening at dusk to signify the joining of the French and Egyptian cultures.
After watching the performance of oriental music and nai-playing in awe, we headed up the circular staircase to the spa. We passed through a corridor displaying So Spa's range of specialised French Cinq Monde massage oils, perfumes and beauty products and were greeted, professionally and politely, at the entrance by the spa manager herself.
With Christmas looming, the white, fresh, spotless lobby was beautifully
decorated using an assortment of red, silver and glass baubles with
deep red rose heads inside, maintaining the classy atmosphere.
Before preparing for our treatments, we were given a tour of the spa and its facilities, including the small but state-of-the-art gym, the treatment rooms, the relaxing room – complete with tea, fluffy jasmine macaroons and gluten free, sticky chocolate brownies – and the hydro pool, where the latter two offer fabulous views of the outdoor infinity pool and the Nile.
Inside the spa, the lights are dimmed and the corridors are lined with oriental tea lights, whilst soothing music and aromatic smells engulf your senses. Most of the treatment rooms are single rooms and we spotted one with its own private jacuzzi bath. A couples room is also available where two people can have treatments, side by side. Whether you choose an individual or a couple's massage, you are given a key to your very own changing room which comes complete with a wide range of small takeaway spa goodies.
We changed into a soft robe and a pair of slippers before we were introduced to our masseur and given a warm foot bath to start – complete with rose oil, salt and a soothing foot massage. We then lay on the silky soft massage table whilst the masseur applied a delicious smelling, warm, lemon and orange oil and gently kneaded out every little knot.
After lying in a state of serenity, we slowly headed down to the heavenly forty-degree hydro pool and continued to unwind with the powerful jets and incredible Nile and swimming pool view. The use of the steam room is also included in the treatment package, but for fear of never leaving, we saved this for another day.
Browsing through a variety of Cinq Mondes testers available in the reception area, we happily purchased an 'Onguent de Jeunesse Aux 7 Plantes Chinoises' moisturiser (678LE-847.53LE – dependent on skin type), which is an organic, anti-aging formula inspired by a Chinese beauty ritual. Balinese inspired facial exfoliator, 'Exfoliant Graines et Fleurs' (479.04LE) was also added to our purchase. Both leave your skin feeling exceptionally soft and refreshed and although pricey, they are quality products – perfect for occasional pampering or as a gift.
We'll definitely be back again for more lavish self-indulgence, especially when their on-site beautician returns in the next couple of weeks to deal with any waxing needs and vital mani-pedis.