Staying Healthy in the Sun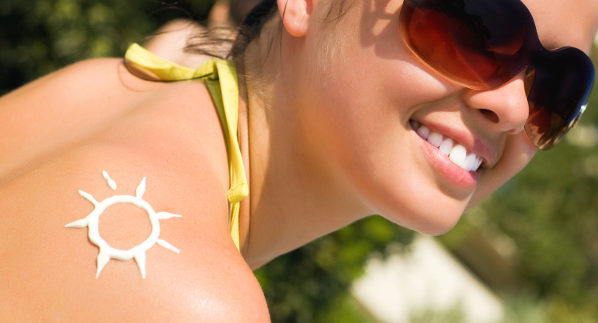 written by
Tanya El Kashef
The summer in Egypt usually means one
thing: tanning. While the sun is of course healthy for us and the vitamin D it
projects is highly beneficial – reducing some forms of cancer and generally
making us happier people – there are also certain precautions and tips one
could use to minimise the bad while maximising the sun-kissed good.
Drink Water
Drinking water is important all year round.
There is never a day or season where water is not essential. Most of us don't drink enough and for living
in such a hot climate this is a big risk to our health. Being by the sea and
basking in sun rays all day only heighten the need to remain hydrated – especially if there's alcohol being simultaneously consumed.
So make sure to always have a bottle of slightly chilled water by your side at
all times to stay hydrated, healthy and happy.
Apply Sun Block
There have been rumours that sun block is
not that good for you and essentially a load of chemicals we choose to apply to
our skin. Supermodel Gisele Bündchen has recently
condemned the use of sun block; however, avoiding being severely burned has
earned sunblock our ongoing support. We know that putting sun block all over your body is a
drag, especially if you're already tanned, so the importance of applying the
block to the face and neck at the very least is paramount– after all these are the first
places you will spot wrinkles.
Afternoon Sun
Speaking of protection from sun rays, there
is the illusion that the earlier you are on the beach, the better. This is in
fact, not true. The sun is at its most piercing from about 11AM till 2PM, and
you are more likely to get burnt during those few hours than any other time of
the day. Even though the day might not end as late as it would have – had they
continued changing the clock – there is still more than enough time to enjoy
the sun from mid-afternoon. It's those later hours that will give you a that bronze tan you're after at a lower risk of damage.
Wash off the Salt
The nicest part of swimming in the sea is
feeling all roasted and crisp afterwards, kind of like a slow roasted, salted
peanut. But the unfortunate truth is that tanning with salt water is bad for
both your skin and your hair. While salt water has some medicinal healing
elements, that certainly doesn't apply in the context of sizzling underneath
the sun. Although bathing after every dip isn't practical, if you want your
hair to remain at its healthiest all summer, then we strongly suggest at least
rinsing it in shower.
Apply After-Sun
The negative effects of the sun are not
restricted to just being underneath it. Your skin goes through a hell of a lot
during and after, and so the post-pampering process is just as important. After
taking a shower, it is important to reward your lovely bronzed skin with some
much needed hydration. Apply all over, generously. While Aloe Vera is the most
common sun healer, you can also pick up any brand of 'after-sun', making sure
that it offers the full hydration required and doesn't just come in a pretty
bottle with a deceivingly pretty scent.
The summer is long in Egypt and if you're
smart about it, you can take advantage of the rays from April until late
September and even early October. Hell, we've often got quite a tan from Sinai
in December. The point is that although people have been exposed to the sun for
centuries without fancy sun blocks and protection, these people also survived
without cell phones and Facebook – they are more or less a different species. We, the more delicate generation of creatures, need to be more careful. So remember, while
looking sun-kissed is great, looking like an overheated tomato is not.