The Four Seasons Nile Plaza: Pamper Away the Aches and Pains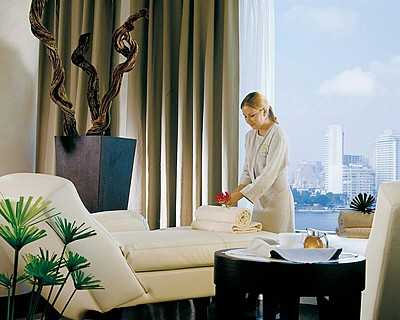 The Four Seasons Nile Plaza Spa is a luxury enthusiast's
heaven. Before you're won over by the hushed lobby and chivalrous desk staff,
or the refreshing pitchers of cucumber and lemon-flavoured ice drinks proffered
upon arrival; do remember that the uplifting luxury comes with a considerably
suffocating price tag.
With a lounge possessing arguably the best Nile view in town,
white canapé couches and downy white robes, it embodies all that one desires
from a spa experience. The sauna,
steam room and Jacuzzi are quite nice, but the best part lies in the individual
massage rooms, where you find simplistic, state-of-the-art white décor, lights
dimmed to personal preference, and soothing music playing in the background.
Expert masseurs hail from Thailand and Sweden, and they will lull
you into a trance of peace and serenity, where you may forget that your dollars
are melting away by the minute. Massages are priced in US dollars and are
generally 50 minutes long. The pharaonic massage (169USD) combines scented oils
for an out-of-the-ordinary treatment. The sports and fitness massage costs
139USD for 50 minutes, and 179USD for 80 minutes, and is popular among athletes
for its focus on stress caused by high-impact injuries and deep tissue techniques.
Other unique choices include the oriental head massage (119USD), which uses
coconut oil and pinpoints pressure points in the temples, head and neck. For
249USD, the spirit of four hands massage involves two masseurs working in
unison and using rhythm techniques to induce ultimate relaxation.
If you're looking for detox treatments, the Four Seasons boasts an
attentive array of body wraps, facials and cleansing treatments to have your
smog-infused pores feeling spotless and as good as new in a matter of a few
hundred dollars, by the looks of it. The anti-aging treatment (239USD) gets you 110 minutes of work on skin and
hair, using a combination of mango, cream, milk and steam. An anti-cellulite
wrap (169USD) sloughs off the surface skin and leaves you feeling polished and
purified with a combination of thyme, eucalyptus, cedar wood, camphor, lavender,
geranium, cinnamon, mineral salts, citrus fruits and seaweed.
If you're feeling adventurous; try the volcanic clay
treatment (199USD); herbal steam and volcanic clay are used in this
treatment to cleanse, smooth and detoxify the skin.
Facials range from about 100USD-200 USD and are tailored to
your skin needs. The prices are comparatively high, but if it's luxury you must
have, then luxury you will get at the Four Seasons Nile Plaza.
In short, the spa will thrill even the most discerning connoisseur
among us and is sure to have you dreaming and scheming of how to become a
regular. If you think of a way, please let us know.