The Nail Studio: Simple, Unpretentious Beauty Services in Zamalek
35B Mohamed Mazhar Street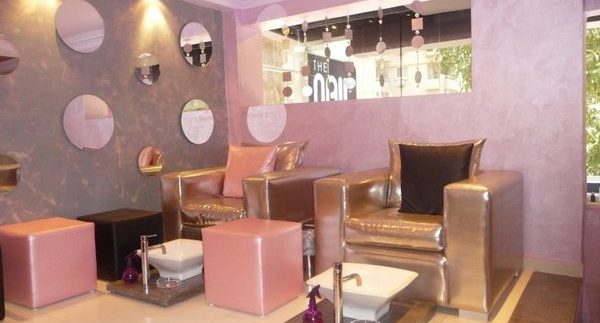 Having found the Nail Studio in Zamalek well behind its higher-end Cairo competitors in 2010, we returned with high hopes.
Up a flight of stairs, the nail parlour is marked by a pink and black sign and requires a knock on the door to be let in. The place itself is quite small, looking very much like an average apartment. There is nothing really 'chic' about the interior; it is actually rather shabby and considerably crammed. Walking deeper into the space, towards the wide armchairs with a basin placed in front of them, we sat down for a simple manicure (60LE) and pedicure (60LE).
While the chairs were comfortable, they desperately needed new upholstery – both because it was quite worn and the style outdated. Assuming only one lady would be handling the job, we were surprised to discover that there would be two of them. The foot bath – essentially a sink fixed into the ground – was filled and our feet placed in it. The makeshift plug caused some problems where the water occasionally drained, leaving our feet barely submerged. However, we eventually managed.
While our feet soaked, we picked the nail polish colour. They don't stick to a specific brand, which is nice because of the random variety. So after deciding on a colour, our designated manicurist joined the pedicurist at our side. Providing a small bowl with marbles at the bottom, solely for aesthetic purposes, the water was tepid and did not feel that great.
Having tried manicures and pedicures all over Cairo, this one was not exceptional; it was just about average. The instruments used were not sterilised, something that's otherwise pretty standard, and while the job was 'done', it was not relaxing or entirely pain free. In terms of the manicure, we were asked if the skin should be removed from all around the nail or just the sides and even though we chose to stick to the sides, she still went all round.
We decided to try out the foot scrub (55LE) which came recommended. Again, while the job was done efficiently, it's nothing we couldn't have managed doing on our own. Also, since she'd over-zealously cleaned our big toe, the scrub stung a bit. The quality of the polish-application isn't great; uneven and lacking sheen, we've done a better job ourselves on occasion.
They offer other treatments besides the basic mani/pedi such as Callus Therapy (80LE), a Spa Shower Salt for the feet (30LE) and Legano Spa Salt for the hands (30LE). There are also massages and Moroccan mud facials for 60LE and 40LE respectively.
The Nail Studio shouldn't be written off entirely, but rather should come with the warning that the service you'll receive is as simple as it gets.