St. Paul and the Broken Bones: Half the City
St. Paul and the Broken Bones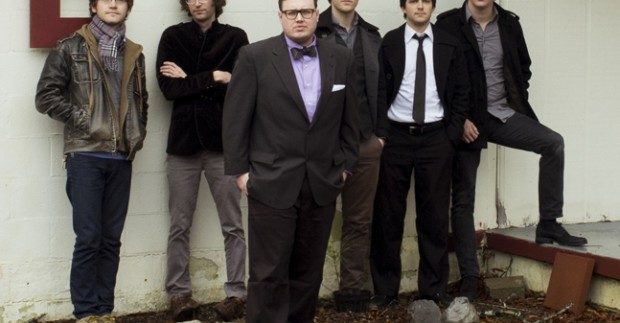 St Paul and the Broken Bones is a rising soul septet from Alabama, whose music is inspired by the quintessential gospel sound and vintage soul. The group's debut album, 'Half the City', could easily be mistaken for something recorded decades ago.
The band utilises guitar, horns, drums, bass and keys to muster up a wide palette of American sounds, from laid back to blues, to fast paced, classic r&b.
The man behind the mic, Paul Janeway, provides the core energy; fuelled by raw human emotion, here's a man who growls, screams and pulls out all the stops, taking the music to ends no instrumentalist would dare to go. When he's in the zone, Janeway is guilty of stirring up nostalgia from days long gone, when wild performances from James Brown and Al Green were as infectious as the music itself.
On the negative side, Janeway has been known to take his theatrical stage antics too far, losing his sense of pitch. While this may have great dramatic appeal, a jarring tenor is never pleasant to the ears.
It's for this reason that producer Ben Tanner took a firm decision urging Janeway to tone things down a little in the studio; the more he holds back, the more his musicality shines through. In its final stage, 'Half the City' powerfully delivers a classic soul and r&b sound, with a contemporary touch of electric guitar armed with a little distortion, hinting at post-rock and indie influences.
The album's second track, 'Don't Mean a Thing', has an intricate, punchy arrangement of horns over a backdrop of a smooth organ, all accompanied by the occasional meander from the guitar. While the overall ambience of the song is geared at being old school, the hook's phrasing has the air of contemporary jazz arrangements from the likes of Snarky Puppy and Roy Hargrove.
At the calmer end of the spectrum, mellow grooves can be heard on the likes of 'Let it be So' and 'Broken Bones & Pocket Change', both of which are firm examples of the band's wide and dynamic range.
With such a powerful debut, St Paul & the Broken Bones may struggle to live up to the hype they're cooking. We can't wait to see what's to come from them in the future, but in the meantime we'll take what they've got with a heartfelt hallelujah!