Alicia Keys: The Element of Freedom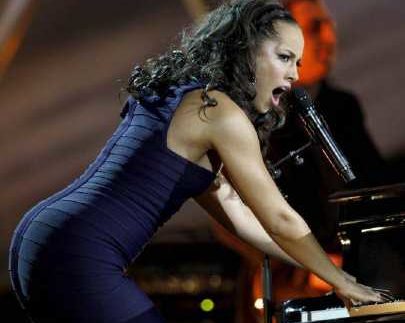 It used to be that when an Alicia Keys song came on the radio or on your iPod, you could tell right away it was the songstress with the pipes that can belt out from here to Timbuktu, and the sound was crisp and clean. While the single 'Fallin'' from her debut album Songs in A Minor put the artist on everyone's music-watch, the single also proved to be her downfall. Not since that song came and emblazoned our memory has she put out a single that is undeniably 'Alicia Keys'. And while her recent album The Element of Freedom has received relatively good reviews from the American press, this reviewer and ardent Keys fan is semi-disappointed, with the remaining 'semi' trying to be, let's say, open-minded.

The lead single off the album, 'Doesn't Mean Anything', is a cookie-cutter pop/R&B track that could easily have come off of a Jordan Sparks album, or better yet, a late 90's Monica CD . Keys brings to this album her now raspy voice, which she introduced in her album The Diary of Alicia Keys , This adds an element of sincerity in some of the more agonizingly emotional moments on certain tracks, to the point that she sometimes walks a fine line between hitting big notes and just making loud, emotional confessions. And while it still might take listeners about 15 guesses to figure out that the voice belongs to her, the raw emotion and desperate plea in the vibrato of her voice are still unmistakably Alicia Keys.

The one single that pulls on this reviewer's heartstrings in the traditional Keys heart-wrenching technique is 'Try Sleeping with A Broken Heart'. It brings together a combination of a-woman-done-wrong and innocence quite possibly never heard before on any track. It sounds as if she's this close to breaking down, but refuses to compromise her pride. It makes the listener want to hug her and tell her it will all be all right.

However, the album is heavy on the beats; you just can't play it on your laptop while you work. You should blast this percussion-infused album on a surround sound system, at least for the more upbeat tracks such as the surprisingly fun collaboration with Beyoncé on 'Put It in A Love Song'. Beyoncé might have a history of whoring her vocals out for exposure with the current 'it' artists such as Sean Paul and Lady Gaga, but this track is irresistible, marrying together Beyoncé's pop/dance fetish with Keys' anguished soul vibes.

Play this album in the background while you're cooking or doing housework. And when something catches your attention, pump up the volume. Because as it turns out, The Element of Freedom can at times be asphyxiating rather than freeing. Keys remains – to some degree – one of the most original R&B/Soul artists out there, in an age of formulaic divas like Rihanna and Ciara.