Animal Collective: Centipede Hz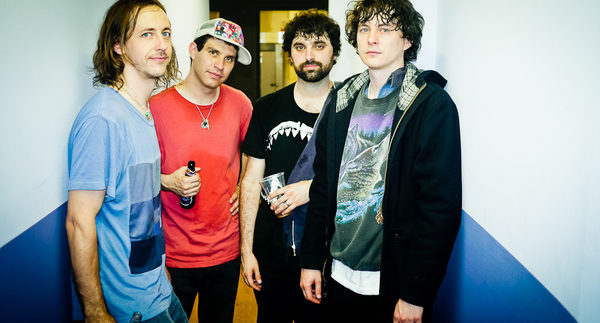 Animal Collective's latest contribution to the musical panorama is possibly their most polarising. Following the incessant praise thrown at the group for 2008's Mearriweather Post Pavilion, the Baltimore natives have taken steps back to their garage-psychedelia roots and hit the roof with Centipede Hz.
The band's ninth studio album sees a return to the unrefined sounds of
Feels
and
Strawberry Jam
. Vocalist Avey Tare unapologetically infuses the gargled grime of solo album
Down There,
most notably in tracks like 'Monkey Riches', which sees his influence meld seamlessly with the group's trademark energy and chaos.
Meanwhile,
Panda Bear
layers the well-crafted melodies and harmonies that characterise his solo work onto a similarly psychedelic, albeit playfully soothing, cacophony of sounds in 'New Town Burnout' and 'Rosie Oh'. The latter is in line with a light-heartedness that carries many of the album's songs.
Prior to the release of Centipede Hz, talk of the band's recently absent fourth member dragged on. Having mysteriously nodded out for the hugely successful Merriweather Post Pavilion, Deakin stands shoulder-to-shoulder with his brethren once more, and his return adds a very distinctive, if subtle, ingredient – especially vocally. His deep, blunt vocals on 'Wide Eyed' are a complete turn from Avey Tare's trademark screeches and Panda Bear's honeyed librettos.
The highlight of
Centipede Hz
is 'Today's Supernatural'; the first track that was unleashed on the public in the lead up to the album's release. As has become an Animal Collective trademark, the track is infused with dramatic demi-melodies, complimented with the always dramatic vocals of Avey Tare: 'Come on let it go/ bionic hee-haw/ You can dress yourself for dancing, you can wear your body cape and I will welcome you the same."
The track climaxes with a declared celebration of life: "Have you seen the clouds?/ You should come on out/ Today feels so supernatural."
Even the briefest of listens to the Animal Collective back catalogue highlights that no two albums have ever sounded alike. Anyone hoping for the cleaner sounds that gave the group a wider audience in 2008 will almost certainly be disappointed;
Centipede Hz
is largely built on layers upon layers of mischievous noise, distortion and a cluttered energy. But with that comes a purity and honesty – if ever there was such a thing in experimental music – alongside a welcoming loss of inhibition.
Every element feels intricate and measured, but it's the way that it's all thrown together that makes it akin to a carefully stencilled masterpiece, filled in with paintbrush flicks of neon colours.