Alternative & Indie

Pop

...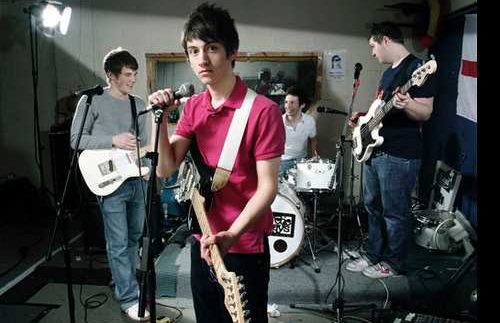 When the Arctic
Monkeys first burst on the scene in 2006 all mop-top, gritty Northern and
clever, they were Britain's
latest Beatle-vein sensation; and teeny boppers couldn't get enough of them. Soaring
into the stratosphere, they had the fastest selling debut album in British
history with Whatever People Say I
Am, That's What I'm Not, and they still hold that title today.

Surprisingly,
they released their second album Favourite
Worst Nightmare a
short three months later, and were accused of being opportunists for, well,
seizing the opportunity to sell more albums at the height of the Monkey craze. The Monkeys simply pleaded boredom as the
cause, and not wanting to play the same songs ad nauseam on a lengthy
tour.
Whatever their
reason, this firecracker start engrained them solidly in the collective British
conscience. Apart from front-man Alex
Turner's side project with The Rascals' Miles Kane, called The Last Puppetshow;
the Monkeys have been relatively silent since.

Humbug is their much anticipated third album… and it is humbug indeed. To say that it's a departure from the
Monkey's trademark and infectiously sardonic wit is very cliché and putting it
very lightly.
Perhaps it's
because they listened to nothing but Jimi Hendrix and Cream throughout the recording
process, or perhaps the American production team and location influenced their sound;
because the album is cyclic and monotonous.

Fans who loved
the Monkeys for their witty lyrics and distinct tone will have a hard time digesting
their latest offering. They sometimes sound
psychedelic like The Doors, sometimes aggressive like Billy Talent, and
sometimes experimental like The Gorrilaz. In short, the album's just kind of blah,
ho-hum…humbug?
Okay, so the
Monkeys have grown up, Turner's voice has cracked, and they are now much more
experienced and can fine-tune their musicianship and crafty vocals. The question is: what was wrong with their kickass rock/pop
sound? They may be better musicians, but
they've left their audience in the wake; and they seem to be okay with that.
Nothing shines or
stands out on this album, except maybe the winding 'Cornerstone', which is reminiscent
of their old sound, or 'Fire and Thud'. 'Crying
Lightening', their first single, exemplifies the new cyclic style that the
Monkeys have taken on, and the only highlight is the whack video featuring the band
on a makeshift pirate ship just playing the song.
Fans of the old
Monkeys may be disappointed, but they're currently recording their next album; which
is rumoured to be released later this year. Fingers crossed they go back to basics and re-light the fire.