B.O.B: B.O.B Presents The Adventures of Bobby Ray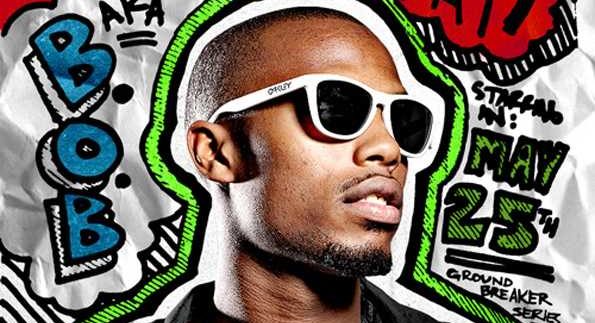 If you've never heard of B.O.B., you're forgiven: the
21-year-old producer/songwriter (aka Bobby Ray Simmons) made his debut this summer with B.O.B
Presents: The Adventures of Bobby Ray. You've probably heard his music: his
catchy songs 'Airplane' and 'Nothing on You' have been on heavy airplay on Nile
FM for the past two months at least, and you may have caught yourself humming
along to them in the car at some point or another.
For a debut album, Adventures is very impressive; a
smooth juggle between hip-hop and pop. B.O.B seems to be following in the
footsteps of the greater Kanye West, sampling pop tracks and featuring pop
stars on vocals with a rap style that occasionally sounds very Kanye-like. Even the guest vocals featured on the
13-track album are impressive: the fact that hip-hop heavyweights Eminem, Lupe
Fiasco and TI collaborated with B.O.B on his debut album shows that only great
things lie ahead for this talented rapper. Also, his choice of collaborators in Hailey Williams of Paramore on 'Airplanes' and Rivers Cuomo from Weezer
on 'Magic'shows that B.O.B can appreciate drastically different
genres like rock and hip-hop.
PG-conscious parents will love this album: B.O.B has shunned
the classic hip-hop thug image; his lyrics are clean and free of misogynistic undertones. Instead, he wears his heart on his sleeve and
sings about his love's genuine beauty on 'Lovelier Than You,' a song that shows
B.O.B's skills at the acoustic guitar. He
probably won't earn any street cred for this borderline-cheesy song, but the
girls will love it.
'Airplanes' is by far the biggest hit on the album, where
Williams' touching vocals mix well with B.O.B's rapping about the need for
patience and hope. The part 2 version featuring Eminem is equally touchy, though ten times more powerful thanks to Eminem's spot-on rapping.
'Magic' has a hook that would have
suited Katy Perry better, and Cuomo's presence on the track is baffling, but
perhaps it's his attempt to make Weezer more relevant on the radio. 'Nothing On
You', featuring Hawaiian-born singer Bruno Mars, is another infectious radio
hit, though B.O.B's rap lyrics might need a little work: 'Everywhere I go I'm
always hearing your name/ And no matter where I'm at/ Girl you make me wanna
sang' induce cringes.
Tracks like 'Past My Shades' and 'Bet I' are B.O.B's bid
to earn hip-hop street cred; though on both tracks, guest vocals by Lupe Fiasco
and TI overshadow him. However, 'Bet I' is a decent enough hip-hop track that
makes even the whitest of listeners want to roll down their windows and buy a
grill, whatever that may be. 'Kids' featuring breakout star Janelle Monae is a
good song with a strong message, but there's nothing imaginative or outstanding
about it.
All in all, Adventures is a radio-friendly rap album that's
more pop than hip-hop and keen to reach a mainstream audience with its PG-rated
lyrics and easy-to-follow rapping.