Broken Social Scene: Forgiveness Rock Record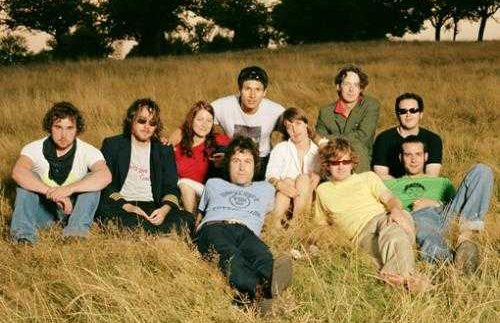 Canada's got a knack for giving us indie groups, and Broken Social Scene
(BSS) is one of the most paramount. The group consists of members of other
groups (Metric, Stars, The New Pornographers) and indie icons Jason Collett and
Feist. You Forgot It in People and
the self-titled follow-up album are iconic records of the past decade. BSS
write meticulous pop cuts that are both snide and utterly sincere.
Kevin Drew, founder and propeller of the group, created a very rustic
and dry sound on the earlier records; his production is the leading instrument.
Every chord struck, every word that hits the mic, and every cymbal crash is
mixed to razor-sharp perfection, but on Forgiveness
Rock Record, he favours a more sandpapered sound that doesn't quite make it
polished; instead, the album sounds conjunctive. Just listen to 'Chase Scene,' where
they hook us with an aggrandising volume. 'I think I'm ready to go/ I think I'm
ready to fight/ for the seed of my life,' assures the outfit with a hurl.
The group has had its ups and downs during their lifespan, and after
most of the members sought solo careers of their own, it was hard to reassemble
for a new release, hence the five years it took them to release Forgiveness, and hence the name. In the synthesizer-laden
'All to All,' the female lead delivered by Lisa Lobsinger literally choruses a
call of forgiveness, but that doesn't mean the rest of the album will play like
an hour-long couple's therapy session. 'Texaco Bitches' comes quickly to perk
up the album, and guess what; it's about the oil crisis.
As is the case with their earlier albums, 'Meet Me in the Basement' is
another instrumental in the band's string of climactic themes for imaginary film.
'Art House Director' is another meticulous song about the validity of art
trying to have it both ways; integrity and accessibility. It's a premise that
BSS built their career around. 'Sweetest Kill' captures a moment where all
seems lost in vain, but then comes the song 'Water in Hell' as a rebuttal. 'The
shuck and Jive/ the shuck and jive is over/ It's the year 2010,' the song
reminds us.
In his book The Rock Snob's
Dictionary, author David Kamp addresses a type of album called 'hard but rewarding'–
think Radiohead's Kid A. Kamp
undermines such albums and credits their acclaim to their exclusivity. BSS's
output can be lumped in that category, although it would be misleading.The
band's gruffness is not a gimmick, it takes a while for it to click but once it
does, it unlocks the door to some of the best indie out today.