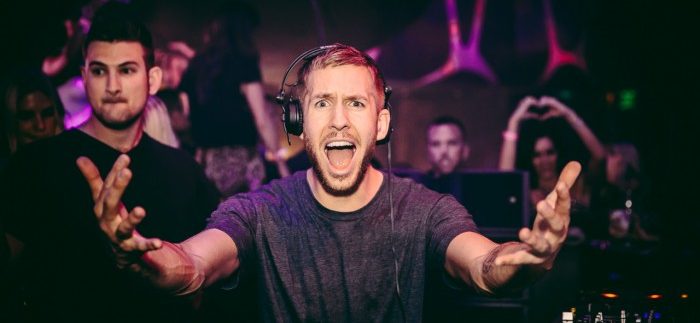 Scottish DJ, producer and occasional singer, Calvin Harris, has returned with fourth studio album, proving exactly why he is currently the highest paid DJ around, with the album featuring an array of chart-topping artists.
The countdown to the release of Motion began in October of last year when 'Under Control', featuring English synth-pop duo, Hurts, and Swedish DJ, Alesso, was released as a teaser of what was to come. In March of 2014, 'Summer' took over the airwaves; featuring Harris' own vocals, it went on to become one of the songs of the summer.
A divisive character in music, Harris' latest efforts sees him precariously straddle the line of commercial pop and EDM. Harris' choice of collaborators is, as usual, quite strategic; he chooses the best of the it-artists of the moment, '.
John Newman features on 'Blame', Gwen Stefani croons on 'Together', Ellie Golding adds her unique vocals to 'Outside' and Big Sean raps to 'Open Wide'; all, if only for the sake of recognisable names, are incredibly chart-friendly.
Taking a leap of faith and delving into new, albeit still quite shallow, waters, Harris collaborates with American indie-pop trio, HAIM, on 'Pray to God'. It's by no means a remarkable song, but HAIM's vocals do add the element of surprise to an otherwise humdrum song. 'Love Now' sees another minor diversion by Harris, collaborating with little-known British trio, All About She, and delivers what is perhaps the most organic piece of music on the album; the group's fusion of r&b, house and garage are a perfect fit for Harris' electro-house inclinations.
'Faith' sees Harris attempting to sing for the second time on the album and the result is not disappointing, but the song as a whole is rather redundant; we hear the same beatwork that focuses that inevitably burst into a catchy chorus.
'Slow Acid' is possibly the only track that strays away from the commercial House sound of most of the album, with Harris leaning on trance; it's dark and almost nostalgic for the 90s.
All in all, Motion is an unchanging menu of Harris' usual, clean-cut, anthem-inspired music that seems to be radio-ready and, in all honesty, almost characterless. His collaborations, in themselves, are always intriguing and his scope of collaborators impressive, but amidst the novelty of it all, he loses his own identity as a producer and DJ in sea of increasing generics that will continue to see detractors level the 'unauthentic commercialism' card at him.