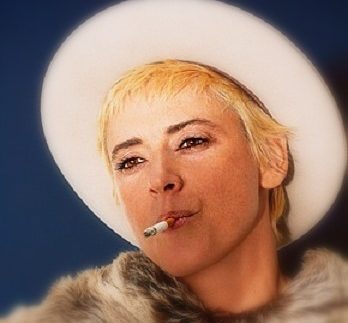 Chan Marshall, better known to the world as singer-songwriter Cat Power, has got some demons to fight. Coming from a broken home, being raised at the hands of an abusive mother, her formative years have left some serious scars. With a family history of alcoholism, she fell in the trap of drug abuse at an early age. She was admitted to a psychiatric ward several times, because she was severely depressed and at one point even suicidal. At the turn of the century, she was known for her erratic and unpredictable live performances, ranting on stage incoherently, sometimes too drunk or otherwise intoxicated to properly perform.
Cat Power has used her music to channel and attempt to control these demons. Her new album Sun seems no exception to this practice, but, for the first time, there seems to be some light shining through her mists of desperation.
In recent interviews Marshall has denied Sun is a break-up record. She claims it is a 'political record', but the first lyrics on album opener 'Cherokee' leave little to the imagination: "Never knew love like this/The wind, moon, the earth, the sky/Never knew pain like this." With her voice arrestingly prominent in the mix, supported by rolling drums and echoing guitars, the message is loud and clear: Cat Power wears her heart on her sleeve and takes no prisoners. A shuffle beat and cheery backing vocals save 'Cherokee' from becoming too uncomfortable to listen to.
Marshall has a pleasant, almost jazzy sounding voice: smoky with a bit of a rasp; it fits her disarming honesty well. She refers to her battles with depression in 'Real Life' and proves to be no stranger to self-deprecation when she mocks her own emotional problems: "Bitching, complaining, when some people ain't got shit to eat" in 'Ruin'.
'Nothin' But Time' clocks in at almost 11 minutes and boasts guest vocals by Iggy Pop. Here Marshall seems to get rid of her demons again, exclaiming "I want to live!" Despite its length, the track remains interesting thanks to its wavy synths, staccato piano melody and subtle play with volume towards the end. One of the best tracks on the album is '3, 6, 9'. It has a great hook and a very catchy chorus, with auto-tuned back up voices and cow bell to boost. Along with 'Ruin' this will be the song you'll be singing long after the album has finished.
Sun is far less soul oriented than predecessor The Greatest. Piano is no longer the driving force behind the songs; country rock-tinged guitars have become the central binding agent. On Sun, Marshall experiments with electronica for the first time, mostly notably on the title track, 'Real Life' and 'Human Being'. It provides a much needed uplifting element to the often unsettling lyrics.
Album closer, 'Peace and Love' is the only song that can support Marshall's claim of this being a political record. Dealing with the hippy generation, blasting internet fame and government spending, the song is dressed in a scratchy guitar riff, wrapped around a 'na na na' hook that seems uninspired and even gets annoying after a while. It's a disappointing end to an otherwise great album.
Between The Greatest and this latest record lie six years in which Marshall released no new original material. In the music industry, that is way too long. But we'll gladly wait another six years for a new Cat Power album if it's going to be as good as Sun.