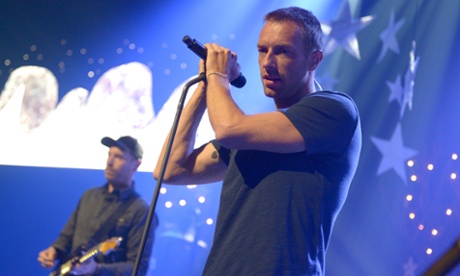 "I think of you…I haven't slept"; the opening lyrics to Coldplay's sixth studio album Ghost Stories.
The opening track, Always in My Head, leaves little to the imagination when it comes to Chris Martin's heartache. Released just two months after the band's lead singer split, or "consciously uncoupled", with his wife Gwyneth Paltrow, it is no coincidence that the album's bursting with such despair-filled lyrics.
The album's cover adds an element of creativity to it. At first glance, you see two angel wings etched over a gloomy, star-filled sky. Take a second look at it after listening to the melancholic track-list and you find yourself seeing a heart equally broken into two.
Magic, the album's single, follows through with a humble yet achingly beautiful and consistent drum beat under Martin's smooth vocals making this tune calm and soothing to the mind.
The same band that, almost 14 years ago, released the ever-loved 'Yellow' crooning that the "stars shine" for their beloved, now describe them as "a sky full of stars" in the second single of the album. 'A Sky Full of Stars' is a , peculiur, collaboration with Swedish DJ, Avicii, and is possibly the only track on the album that enticed us to move a few joints along with its hyper-electric tunes. The equally gleeful music video features a rather happy Chris Martin casually strolling through streets, strumming his guitar and carrying his drum set on his back as passer-by's cheer him on.
'True Love' presents perhaps the most sob-worthy lyrics as Martin wilfully pleads "Just tell me you love me… if you don't, then lie to me" along the chilled-out, mellow background beat. The same tone is set for pretty much most of the album with Another's Arms, Oceans and Midnight all hosting the same theme of a shattered love. The songs' slow, relaxed melodies offer quite the paradox when compared to Mylo Xyloto, the band's fifth album's feet-stomping, head-bobbing tunes; the likes of Paradise and Hurts Like Heaven.
'O', the final song on the sorrow-ridden album sent a chill down our spines as it sounded like a ballad straight out of a Bon Iver album. Martin's high-pitched yet soft extended wails quickly reminded us of an old favourite; Bon Iver's I Can't Make You Love Me.
Ghost Stories, with its gothic tones and aching lyrics definitely, at times, made us flinch. The album's chilled out vibe, however, make it quite perfect for listening to whilst calmingly lying on the beach, taking a lonesome walk or simply being in the mood for something a little more mellow.