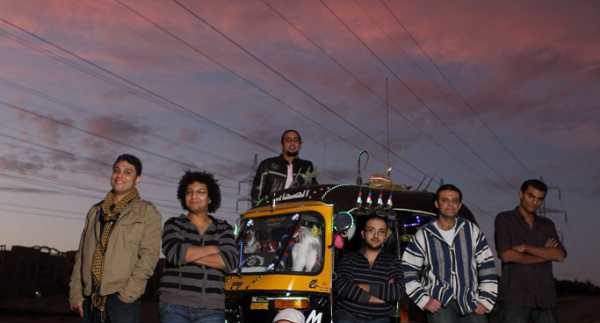 Eftekasat is an Egyptian term that means to make
something up. In a positive context, it inspires notions of innovation, but in
a negative context it means to do something in a clumsy, ham-fisted way. The
dichotomy of the word perfectly exemplifies this band's disposition.
Eftekasat is a six-member band at the forefront of the
thriving local music scene. All accomplished individual musicians, they started
playing in local venues under the name Eftekasat in 2002, while the founding
members have been bouncing between different bands since the early 90s. Led by
Amro Salah, the band plays a blend of oriental jazz melodies infused with
progressive rock to pitch-perfect precision.
Their first album, 2006's Mouled Sidi El-Latini (The Latin Dervish), was a promising debut record
that lacked the high energy and improvisation of their live performances. It's
highly unlikely that a mainstream crossover was the outfit's target with Mouled Sidi El-Latini; Eftekasat are
adamantly uncompromising about their music. The album provided a blueprint for
their concert performances and a good way through which to introduce the band's
music to new listeners.
On their second album, Dandasha (Great Delight), the band returns to the studio for a more conclusive collection of songs, most of which are instrumental, with the
exception of two tracks.
Things kickoff with 'Om El Donia', an upbeat track
that will get your head bobbing and show you instead of tell you what the term dandasha
means. Then comes 'Greeky' with its funky groove and sweeping strings. The band
then flirts with reggae on 'Jah Rasta Fa' and follows it with the warm 'Jazzmina':
here, the kanun takes a lead and give us a track that sounds like it came off
of an Omar Khairat compilation.
The title track is as unrelenting in its sound as it is
with its oriental feel. 'Fadadeen' and 'Alby Beyhawel Ye'eesh' are the only traditional-style
songs. The first is sung and preformed in upper Egyptian intonation, while the
second features Hany Adel, the lead vocalist from Wust El Balad singing a sappy
lullaby that sounds underdeveloped.
Dandasha
is a solid record, but it will only give you a taste of what the oriental-jazz
band has to offer. Each band member gets his moment to shine, each showcases
great talent and technical ability. Still, Eftekasat is the kind of band that
belongs on a stage to be truly appreciated. Support the local music scene and
these musicians who maintain artistic integrity, and enjoy this album chock-full
of enjoyable jazzy tunes.