Erykah Badu: New Amerkyah Pt. 2: Return of the Ankh
Alternative & Indie

Jazz & Blues

...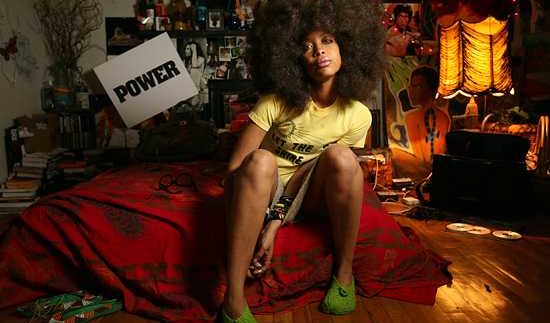 Erykah
Badu released her newest album New
Amerykah Pt.2: Return of the Ankh this March, and as is to be expected, the
album is full of rare musical innovations with Badu's own particular set of keys
and melodic scales.
Badu
has clearly had her hands full; the album release was delayed by the birth of her
second child. According
to the artist, this follow-up to 2008's New
Amerykah Pt.1:4th World War focuses more on emotions, rather than its
more cerebral and political prequel.
Badu
recently spent some time in the media spotlight due to her 'Window Seat' music
video, which features the make-up-free artist sashaying down the streets of her
native Dallas, where she slowly strips down to the nude and ends up lying prostrate
on the site where JFK was assassinated. The video warranted a minor violation
of public indecency, but after all is said and done; it just created a bit more
publicity for the album release.
One thing the video makes clear is that Badu does not rely on conventional sex appeal to carry her funk-infused
image; her style is far more outlandish and ethereal. Her preachy approach
to love, loss and motherhood continues to push musical boundaries. Her nasal vocals continue to
carry weight, long after the echoes of past hits 'Tyrone' and 'Rim Shot' have
subsided, proving there is still room for reinvention. Her syrupy southern
drawl is as conspicuous as her unconventional harmonies, as heard on 'Fall in
Love (Your Funeral)'.
Recently,
Badu's staccato 'Turn Me Away (Get Munny)' has been gracing the radio airwaves
of Nile FM. Hearing the whisper-thin melodies and slap base wedged between
other pop tracks on the radio reminds us that Badu is best enjoyed alone, in
her own element. Her off-beat originality means that she (or her music) does
not necessarily play well with others. So stick to the realm of otherworldly
afterlife theories, brew yourself a cup of chamomile, nestle into your rocking
chair, and listen.
Overall,
New Amerykah Pt.2: Return of the Ankh is
unmistakably the work and world of Erykah Badu, with a few new sounds heard on tracks
like 'Incense' and 'Out My Mind Just in Time.' The album has less spunk than
2000's Mama's Gun, a little less aggression
than New Amerykah Pt.1:4th World War and
is full to the brim with keyboards, kick drums and a melange of reggae, soul
and bebop themes.