Godspeed You! Black Emperor: 'Allelujah! Don't Bend! Ascend!
Godspeed You! Black Emperor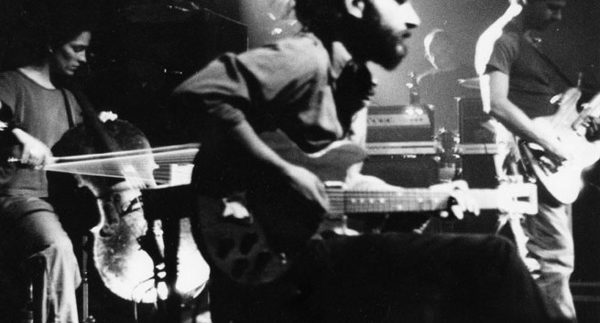 Godspeed You! Black Emperor is a Canadian musical collective hailing from Montreal, specialising in instrumental post-rock with drone-like qualities. Their music is highly experimental and not for the faint of heart, but that is to be expected from a band that named itself after a 1976 Japanese black-and-white documentary, which follows the exploits of a Japanese biker gang, the Black Emperors.
Formed in 1995, four-track 'Allelujah! Don't Bend! Ascend! is only their fourth studio album, after an almost ten year hiatus and having semi-officially broken up in the meantime.
For the die-hard fans, it's not all new material on 'Allelujah! Don't Bend! Ascend!: 'Mladic' is a reworked version of a song called 'Albanian' and 'We Drift Like Worried Fire' was formerly known as 'Gamelan'. Both songs were never officially recorded, but have been appearing in live sets since 2003.
Aside from the spoken word sample that starts the song off, 'Mladic' could easily be a Sonic Youth track with its dissonant guitars building walls of feedback. After a powerful build-up to a sonic eruption, the song ends in true Godspeed You! Black Emperor fashion with what sounds like people banging on pots and pans.
'Their Helicopters' Sing' is constructed on the haunting sounds of dissonant violins against a backdrop of droning guitars, culminating in an orgy of sound. The song cuts to a fade out just before it reaches its peak, leaving the listener slightly unsatisfied and consequently wanting more. How very cunning of them.
Godspeed You! Black Emperor are masters of playing with volume, often taking their time to carefully build up and layer their songs from a quietly whispering guitar or lonely violin into seemingly disarranged explosions of noise. Compositions longer than fifteen or even twenty minutes are not a strange occurrence.
'We Drift Like Worried Fire' is a prime example of that, taking the full first minute of its twenty minute length to come to full volume. It starts off with a violin and cellos played pizzicato to expand into wildly strummed guitars set to eleven.
Album ender 'Strung Like Lights At Thee Printemps Erable' is, despite its mysteriously incomprehensible title, a pretty dull track and definitely the least interesting composition on the album. Its distorted guitars are just meandering forward without any clear goal or end point.
'Allelujah! Don't Bend! Ascend! definitely showcases Godspeed You! Black Emperor's finer moments. It's good to have them back making great music and touring – hopefully they'll keep at it this time.