Iron Maiden: The Final Frontier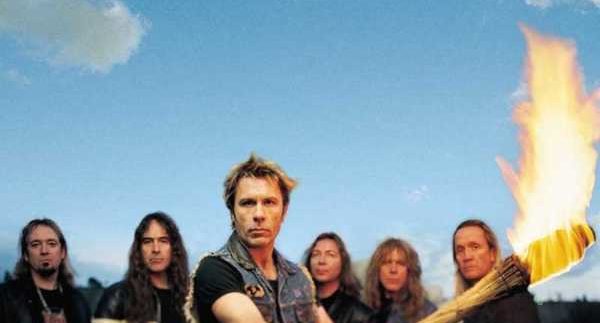 You'd have to have lived under a rock for
the last thirty years to be unaware of British Heavy Metal stalwarts Iron
Maiden. Still, Iron Maiden have a sparse existence in
mainstream media, so metal novices could be forgiven for struggling to name
even a handful of their songs. Having sold over 80 million records worldwide since their East London beginnings in 1975, there seems to be no sign of letting up with The Final Frontier as their fifteenth studio album.
The opening number is every bit as wilfully
theatrical as you'd expect. After a two and a half minute instrumental
introduction, 'Satellite 15…The Final Frontier' flashes into a crescendo that
lives up to the billing of the title track. 'I try to call the Earth's
command/desperation in my voice/I'm drifting way off course now/with very
little choice.'
For those who are unfamiliar with Iron
Maiden, their slight but methodical versatility is what has sustained them for
so long, and stood them a head above their heavy metal peers such as Venom,
Saxon, and the ultra popular Motorhead – all of whom formed in the late 70s and
helped pioneer the new wave of British heavy metal.
'Mother of Mercy' and 'Coming Home' provide
a surprising pace to the album with a slow brooding climb to more archetypal
songs such as 'The Alchemist' and 'Isle of Avalon' which will jolt you right
back to the stage show that is The Final
Frontier.
Bassist and founder Steve Harris has said
in interviews that the 2010 release is as complex a record as any they've made –
and it shows. The longer songs such as 'The Talisman' and 'When the Wild Wind
Blows' can sound tedious, but taking the time to listen carefully pays off. All
the intricate melodies and layers show that Iron Maiden are, and always have been,
true masters of their art.
It's been said that classical music is
timeless because it was not made for a market; meaning there were no deadlines, no sales targets, and no pressure. We can imagine the same
applied to the making of The Final Frontier in a
perverse way, as it oozes its own brand of rock-sophistication. This is a very
precise and measured record that compromises nothing, and lets each song stem
organically.