Isobel Campbell & Mark Lanegan: Hawk
Isobel Campbell and Mark Lanegan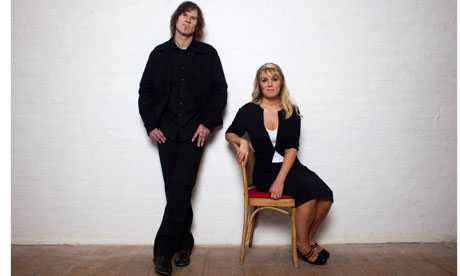 The third album
from this country-folk, beauty-and-the-beast combo comes at a time when people
are finally starting to warm to the two as a duo. Their 2006 debut Ballad of the Broken Seas was met with
raised eyebrows, presumably in light of the different musical backgrounds of the two.
Thirty-four-year-old Campbell made her name with Scottish indie-pop group Belle and Sebastian, while Lanegan (who
is eleven years her senior) fronted hard rockers Screaming Trees throughout the 80s
and 90s, before joining even harder rockers Queens of the Stone Age from 2000
to 2005.
Although Ballad
of the Broken Seas was nominated for a Mercury Music Prize, their second
outing in 2008 was met with an equal amount of disapproval. Sunday at Devil Dirt underlined their
union without being spectacular. However, this time around, the release of Hawk should be greeted with praise and
saluted.
The slow
atmospheric folk opener 'We Die and See Beauty Reign' tells you everything you
need to know about the mechanics of the collaboration. They sing the
lyrics together throughout, matching each other word for word, note for note.
It's a misleading
introduction, though; as the album drifts into an eclecticism of indigenous
American music. The title track 'Hawk' is a barn-dance rock instrumental that
could well have you linking arms with the nearest person and skipping in a
circle over piles of hay.
However, the
album really shines with songs like 'Time of the Season' and 'Cool Water;' simple,
no-frills country songs that showcase both their vocal talents. It's an honest
and wholesome slice of Americana.
There's an
innocent sexual tension between the two that carries the album throughout,
their voices flirting as they sing to each other.
Hawk sounds like the soundtrack to a coast-to-coast drive across a
hot rustic America. Think long desert roads, dark smoky bars, and at times, even cowboy hats and bolo ties.