Janelle Monáe: The ArchAndroid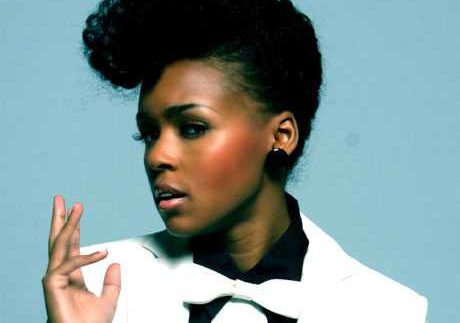 'The mediator between head and hands must be the
heart' is what the last title card of 1927's German expressionism classic Metropolis reads. The film is R&B
singer Janelle Monáe's favourite; it not only inspired the robotic artwork for The ArchAndroid, but also Monáe's
musical trajectory. And while 'concept album' is often used as an excuse for
convoluted works of music falling under the weight of their own ambition, The ArchAndroid's
grandiose brings it all together rather than burry it under a layer of elusive
introspection.
Despite being a thematically and musically dense
record, ArchAndroid's songs stand on
their own. Who among us can digest a dystopian tale about an android with a
messiah complex while sipping coffee on his way to work? In fact, the album's
sweeping saga went completely over our heads until reading about it online.

Monáe's goal was to create an 'emotional picture'– the 24-year-old art school
alumna accomplished more than that with an album that gives back according to
how much you're willing to invest in it. Want a quick fix of neo-funk? Put on the
brassy 'Tightrope' and get jiggy with it. Want more? How about the hip-hop
guitar freak-out 'Cold War'? Feeling more adventurous? The first four tracks make
up a soulful suite, evoking an eclectic range of influences from Stevie Wonder,
Bob Marley, James Brown and Prince to the king of pop, M.J. himself.
At 70 minutes, and with multi-genre collision, ArchAndroid comes off as overwhelming
and intimidating at first listen, not because it's pretentious but because the
sheer amount of ideas and hooks make it hard to absorb instantaneously. Always
a sign of a good record, ArchAndroid
is highly rewarding for the immersive.

Moreover, Monáe's righteousness and
faith is immune to her agnosticism. True, she poises herself as a saviour, yet
she's not shy to show some vulnerability. In 'Come Alive' she admits, 'Tommy
thinks the crazies are back in my mind/ Tommy says the children are clouding my
head', an instance of self-doubt that bubbles throughout ArchAndroid.
Regardless of whether or not the album's protagonist
Cindi Mayweather ends up saving her droids from the emotionally vapid future; Monáe's
music, voice and encompassing sense of melody will end up a winner. Tutored by
Diddy (of all people) and OutKast's Big Boi, this funkstress is truly in her
own element.

She arrives with a cohesive and textured debut that most artists
spend a lifetime building up to. She hits all the right notes, she keeps an
engrossing momentum that slows down for some lush tracks like 'Sir Greendown' and
'Oh, Maker,' and picks up again to knock your ears off with 'Tightrope'. Monáe
is not just a maverick– she's an unrelenting storm of fresh air.