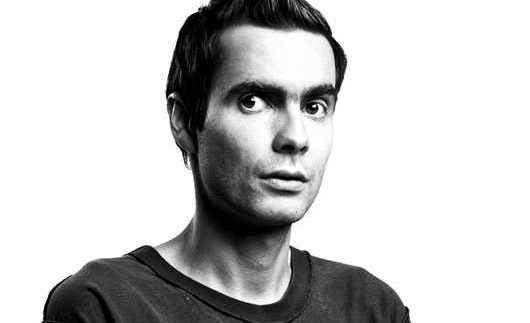 If Jonsi's name
doesn't ring a bell, his Iceland-based band just
may. Whether you knew who you were listening to or not, Sigur
Ros' tracks have appeared in numerous television shows, movies, and
commercials ranging from CSI: Miami to Vanilla Sky and The
Life Aquatic with Steve Zissou.
Attempting to
describe Sigur Ros' sound as magical is like telling your children that the
1960s were cool; it's just not enough. From the band's use of a constructed
language throughout their lyrics, expanding the listener's creativity, to their
minimalist yet fully melodic approach; the absolute beauty that their music
brings forth cannot be missed.
Sigur Ros is currently
on hiatus and won't be releasing a new album anytime soon. However, leading
front man and guitarist Jonsi Birgisson has surprised the band's followers with
not only one but two solo albums released in the past year and a half. The
first, titled Riceboy Sleeps, was released last year, using only
acoustic instruments. With Go, released this April, Jonsi takes it up a notch; tying in bits and
pieces of that gorgeous Sigur Ros sound into his latest solo endeavour.
Go incorporates some changes including the
use of English as the main language, as well as Jonsi's collaboration with
composer Nico Muhly (who worked with Björk and Grizzly Bear); laying down amazing
string arrangements that are intrinsically woven with emotion and surrealism.
While Jonsi is mainly known for playing his guitar with a cello bow and that
high-pitched voice, the album offers much more.
In the opening
track 'Go Do', Jonsi sincerely pushes for us to be conscious of growth and change. The song's positively moving tempo
screams for true happiness and peace. The lyrics 'Tie strings to clouds/ Make
your own lake – let it flow/ Throw seeds to sprout/ Make your own break– let
them grow,' urge you to be aware of life's possibilities and interact with the planet
earth as it is; a living organism. Between the blissful falsetto tone of Jonsi's
voice and the flickering woodwinds, the dreamy nature of this song allows you
to embrace your imagination.
'Kolnidur' brings back a little of the Sigur Ros goodness, sweeping you up with
some nostalgia on the side. Paired with Nico Muhly's string-filled wonderment
and Jonsi's heavenly pensive sound (and use of that Sigur Ros language), the
piano's steady beat gives the listener a chance to completely dive into the music.
While 'Hengilas' follows
the same path by adding heavier, daunting vocals, 'Sparkling Friendships' is
sparkling with upbeat strings and rolling drumbeats. The song is thought
provoking with its seemingly figurative take on loss and relationships.
While the
majority of Jonsi's lyrics on the album carry a similar abstract form, his
message is quite clear. He doesn't compromise and his music isn't lacking.
Setting a few tracks aside, the album is layered with enchanting sounds, life
truths, and deep spiritual insight; all shedding light onto the magnificence of
life's journey.