Lana Del Rey: Born to Die
Interscope, Polydor, Stranger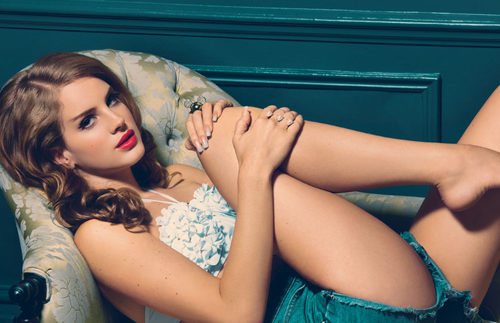 Describing herself as a self-styled gangster version of Nancy
Sinatra, this
sultry American singer-songwriter has rarely been out of the headlines since it emerged that she failed to break into the music industry under her own name- a section of her history that remains a mystery. Born Elizabeth Grant, she invented a new
persona; the fabulous Lana Del Rey. The New York native's trademarks are her indie-vintage style and her constantly
pouting lips. She looks like a 1930s Hollywood star living the Los Angeles glamour
dream.
That
image reflects the vibe on her debut album Born
to Die perfectly. Most of the
songs have a sinister Hollywood glamour to them. 'Carmen' for instance seems to be about an aspiring star that is popular
amongst fans and feels at her best on stage. When she gets off stage, however;
she turns into a depressed alcoholic. One of the highlights of the album is
debut single 'Video Games'. The love song is one of the few on the album with a
bright outlook. The video was shot in the famous Chateau Marmont which seems to
be the perfect setting as the song oozes vintage Hollywood glamour.
The
title track 'Born to Die' is about Del Rey's destructive love for a man; a theme that
is repeated more than once. 'Million Dollar Man' also tells of a broken
relationship and Del Rey sings about how she is willing to give up everything
to get this man back, while 'Blue Jeans' idolizes a James Dean character that Del Rey
can't seem to get over. This isn't an album for the depressed souls alone,
though; 'Lucky ones' celebrates a very happy couple.
Another
recurring theme is of the American dream; a comcept which has been fuelled by
the Hollywood film industry Del Rey seems so fond of. 'National Anthem' best
exemplifies this. It's all about money, diamonds, wining and dining, overdosing
and excessive buying in a song which, according to Del Rey, is a love story for
the new age.
The 25
year-old hit the headlines in the US again after an incredibly bad performance on Saturday Night Live. Critics slammed her and immediately wrote of the entire album. Though
the performance indeed was very bad, we've come to expect this of our megastar
divas having grown up with Madonna and Britney. If you love Hollywood nostalgia
and are fond of dark, melancholic songs then take a step into Lana Del Rey's irresistible
world.