Lily Allen: It's Not Me, It's You
Alternative & Indie

Europop

...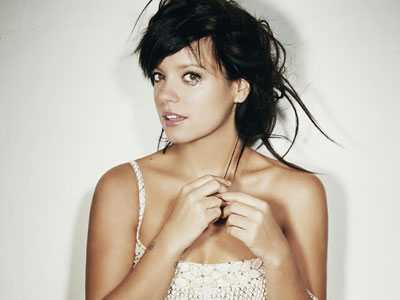 Yes, this album came
out ages ago but we couldn't pass up the opportunity to review Lily Allen's
last album before she quits music to switch to fashion– no joke.
Lily Allen is…
actually rather annoying. Behaving like
a precocious brat much of the time, the blunt Brit has always found herself in
rather compromising situations. It's Not Me, It's You isn't short of her
famous uncouth attitude either.
It seems to be
trendy to mish-mash loads of genres on
one album lately, and while that's not necessarily a bad thing, it doesn't
always work either. Allen's songs use
sounds from europop to rockabilly and throwbacks to 40s jazz, sometimes
successfully. Her themes cover drug abuse, God, clichéd boyfriend angst and
societal constraints– so, nothing new.
The album's first
single,'The Fear', was a massive hit in the UK and understandably so. Allen serves up some light pop with an
underscore of self-doubt plus conceit that proved to be a catchy crowd-pleaser.
With the exception
of 'Chinese'– a song with adorably endearing 'old married couple' lyrics,
"You'll make me beans on toast and a nice cup of tea/And we'll get a Chinese
and watch TV/Tomorrow we'll take the dog for a walk/And in the afternoon then
maybe we'll talk", where she swaps being catty for being genuine– everything
else is rather unimaginatively crass.
Two of the songs
we can't even mention the lyrics to, one dropping massive f-bombs, seemingly by
chipmunks, and the other discussing, well, let's say 'romantic
dissatisfaction', which might be amusing if it weren't so immature. Really, Lily? Didn't your mother ever tell you if you haven't got anything nice to
say…
There's something
about Allen's music that makes us think early 90s pop, which begs the question:
just how 'new and fresh and now' is she? At times quiet and reflective, but equal parts pop princess, does mixing
a song to sound like Elton John's 'Benny and the Jets' (as in 'Never Gonna
Happen') really make you revolutionary?
And then there's
'22', where Allen says a girl of nearly 30 might as well die, 'It's sad but
it's true how society says her life is already over…'Til the man of her dreams
comes along/Picks her up and puts her over his shoulder/It seems so unlikely in
this day and age.' There are no words
for how archaic.
Okay, so we went
into this biased against Ms. Allen but with admittedly little insight into her artistry. Upon now feasting on this music non-stop for
nearly a week, we can safely conclude that perhaps fashion might be her better
calling. We wish her luck!