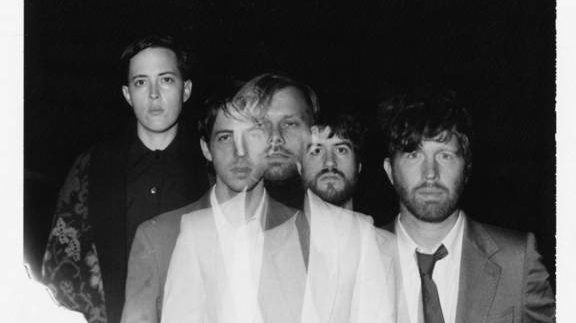 Lower Dens' sophomore album Nootropics
is a difficult album to stomach. Though it is a marvellously executed indie
record, its tone and subject material is dreamy, but also ethereally dark.

It sounds not simply like an
apocalyptic vision of the future, but like an indie band from an apocalyptic future
world, taken over by emotional insects and machines, sending back musical documentation
of a difficult future. That being said, this is
laid-back, surreal, downer, underground rock at its finest. Think dark, weird
Radiohead, executed by modern indie rockers in their twenties.
For those who don't know,
Lower Dens is the Baltimore indie band headed by underground folk singer Jana
Hunter, the solo artist responsible for 2006's excellent There's No Home
album.
After disappearing for a
couple years, she resurfaced with Lower Dens' 2010 debut album, Twin-Hand
Movement, which introduced a much needed darkness and stoicism into modern
day's jangly, irony-glorifying indie music. With Nootropics, Lower Dens have moved entirely into a realm of
their own, one that makes concepts such as 'indie music' seem ridiculously
Disneylandish and self-deprecating.
The concept behind the album
was to look at the relation between technology and organic humanness. Where are
the boundaries drawn? Are blankets human? Are bicycles? Are iPads? What of our
original human make-up do we want to retain, and what should we technologically
get rid of? Lower Dens believe these are questions humans will have to face
over the next century, and the album sounds just like that.

A standard makeup of guitars,
drums and bass constitutes Lower Dens, but the chord choice and scale
structures are bizarre and, again, dark. But this isn't your average
darkness; this is self-confident darkness, in and of itself, without gimmicks. This
is waking up six feet under after you've been buried, and no one can hear you. But
the beauty is rampant.
Out of the ten songs on the
album, only two are instant mind-blowers, and those are the singles, 'Brains',
released months before the album, and the subdued modern classic, 'Propagation'. These two songs encapsulate
the whole album, so if you don't like one of these two songs, do not go
anywhere near the rest of the album, lest you develop levels of confusion and
hatred currently unknown.

The other songs
are generally morbid, dreamy tales of Earthly dysfunction; some highly lyrical,
whilst others purely instrumental. But there is most certainly
an inherent beauty in the production and execution of this record, and it
definitely stands alone as a unique indie gem; one whose marvellous complexity
will no doubt unravel over time, as listeners are able to stomach the difficult
content.
Sonically, the essence lies
in the details; lying alone and listening with good headphones. The dissonant –
though rhythmic – relationship between cymbals, bass and vocals is uncanny.
Nonetheless, it must be noted
that, despite its innate dark beauty, this is not an album for everyone. For
those who use music to inspire a dinner party or a social event, this is not
it, as this album will most likely cause everyone to return home and wonder why they
bother to continue living. But for those for whom such a
question is already prevalent, this is the soundtrack of the future.